Publication:
Estudio prospectivo randomizado para evaluar la efectividad de una estrategia preanestésica para promover el abandono del tabaco antes de la cirugía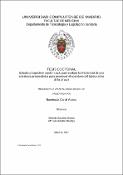 Files
Authors
Advisors (or tutors)
Editors
Publisher
Universidad Complutense de Madrid
Abstract
Fumar es un problema de salud de tal magnitud que es responsable de hasta el 20% de todas las muertes en el mundo desarrollado. Recientemente, se han desarrollado guías de práctica clínica dirigidas a los profesionales de la salud sobre el modo de proporcionar ayuda a los pacientes afectados por el tabaquismo para ayudarles a que lo abandonen. En ellas, se recomienda que siempre se investigue el hábito tabáquico cuando se atienda a un paciente y, si se detecta cualquier variedad de consumo, se proporcione la ayuda necesaria para intentar que lo abandone. El consumo de tabaco presenta una extraña confluencia de varias circunstancias: es una amenaza significativa para la salud, existe una tendencia por la que los clínicos no intervienen de forma continuada y consistente en su control y finalmente contamos con medidas efectivas de tratamiento. La evidencia disponible ha demostrado que el consejo sanitario en materia de tabaquismo proporcionado por los profesionales de la salud junto a los tratamientos farmacológicos disponibles, son efectivos para conseguir la abstinencia en diferentes situaciones. Este último aspecto es muy importante porque si se establecen medidas para el control de la dependencia del tabaco en el tiempo adecuado y de forma eficaz, se reducen de forma significativa los riesgos del fumador de sufrir las enfermedades relacionadas con el tabaco. Los fumadores activos tienen mayor riesgo de complicaciones perioperatorias respecto a los no fumadores y a los exfumadores. Las complicaciones son de diferentes tipos según el diagnóstico que tenga el paciente, pero varían desde las cardiovasculares como angina, infarto de miocardio o accidente cerebrovascular a las respiratorias como neumonía o fallo respiratorio que precise de intubación orotraqueal prolongada en el postoperatorio, así como de tipo infeccioso con problemas de cicatrización de la incisión quirúrgica, sepsis y retraso en la consolidación de las fracturas...
Smoking is a major health problem, which is responsible for at least 20% of all deaths in developed countries. Currently, clinical practice guidelines are presented for clinicians to provide smoking cessation interventions. These guidelines recommended that clinicians should screen all adults for tobacco use and provide tobacco cessations interventions for those who use tobacco products. Systematics reviews have shown that advice provided by health care professionals combined with smoking cessation were effective in increase the rate of abstinence among smokers in different clinical setting, such as hospitalized patients and patients visiting primary- care centres. Regular smokers have an increased risk of postoperative complications compared with individuals who have never smoked, or have recently quit smoking. Complications vary, and are dependent upon the diagnosis, but can include heightened blood pressure, wound infection, cardiac arrest, myocardial infarction, respiratory failure, stroke and sepsis. Moreover, secondhand smoke exposure poses health risk to children undergoing anaesthesia and surgery. There is a clear relationship between the level of secondhand smoke exposure and the risk of respiratory complications during and after surgery. The increased frequency of conditions such as middle ear diseases caused by secondhand smoke may also make it more likely that children will require surgery (myringotomy). There is some evidence that smoking cessation prior to surgery reduces the incidence of postoperative complications...
Description
Tesis inédita de la Universidad Complutense de Madrid, Facultad de Medicina, Departamento de Toxicología y Legislación Sanitaria, leída el 12-01-2016
Collections