Publication:
Las definiciones de lo religioso en Antropología Social. Conceptos y discusiones clave en la búsqueda de un universal cultural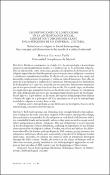 Authors
Advisors (or tutors)
Editors
Abstract
Desde su nacimiento en el siglo xix, la antropología y la etnología estuvieron inextricablemente unidas a la exploración de la diversidad religiosa. Ello ha sido posible, entre otras cosas, gracias a la adopción de definiciones de lo religioso especialmente flexibles pensadas para aceptar como «religiosas» creencias y conductas eventualmente insólitas. El objetivo de este artículo es dar cuenta del desarrollo, implicaciones, hegemonía y crítica de tales definiciones. Para ello, se parte de la recopilación y análisis de las numerosas definiciones de los fundadores de la disciplina en el siglo xix, entre las que encontramos definiciones sustantivas que se han generalizado con éxito hasta hoy en día. En segundo lugar, se abordan los argumentos que supusieron la crisis de las definiciones clásicas y la emergencia del estilo definicional ostensivo que ha caracterizado buena parte de la etnografía del siglo xx. Y por último, se da cuenta del regreso de las perspectivas clásicas a finales del siglo xx y principios del xxi, panorama en el que la antropología social de la religión se maneja hoy en día.
Both Anthropology and Ethnology were strongly linked to the exploration of religious diversity since their origin in 19th century. Among other things, this exploration was possible by the adoption of such kind of definitions which are remarkably bendy and adaptable, whereas they were created to accept weird beliefs and practices as plenty «religious». The aim of this paper is to give account of the development of those definitions, analyzing its importance in the debates about universality of religion in culture. For that, we collect and analyze the definitions offered by the former anthropologists in 19th century, paying attention the substantive definitions which were successfully generalized in Religious Studies until today. Secondly, we explore the ostensive style of definitions developed through the 20th century. Finally, the revival of the classic definitions will be taken into account, paying attention to the anthropological approaches to religion in final decades of 20th century and the beginnings of 21st century.
Collections