Publication:
Madrid, capital de la odontología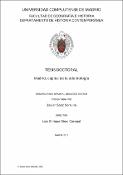 Files
Authors
Advisors (or tutors)
Editors
Publisher
Universidad Complutense de Madrid
Abstract
La historia de la odontología española ha sido objeto de una creciente atención en los últimos años, dentro de la progresiva importancia que desde la historia de la ciencia, y más concretamente desde la historia de la medicina, se viene prestando al estudio de la evolución y desarrollo histórico de las distintas disciplinas científicas. En particular, en el caso de esta parcela se han realizado y publicado algunos trabajos monográficos sobre instituciones, corporaciones, personajes, periodos, textos, etc., que permiten tener una visión bastante aceptable sobre su panorámica general. Sin embargo, todavía resultan insuficientes los estudios acerca de la evolución histórica de la Odontología española, particularmente durante el siglo XX, cuando consolidó su carácter de disciplina científica y adquirió su autonomía respecto a la Medicina, siglo en el que la Odontología española sufrió los cambios más profundos que la elevaron a la altura de las especialidades médicas tradicionales. La Odontología española, como decimos, está siendo mejor conocida tanto por los propios dentistas como por el colectivo de los historiadores en los últimos años debido a una razón principal: su implantación como asignatura en la Licenciatura en Odontología en 1986. Baste recordar que hasta entonces todo su bagaje consistía en dos únicas lecciones incluidas en el programa de otra asignatura. Sin embargo, su implantación como asignatura, con entidad propia, aunque no en todas las Facultades de Odontología españolas, bien es cierto, ha tenido la lógica consecuencia del aumento en la elaboración de un buen número de tesinas, diplomas de estudios avanzados (DEAs) y tesis doctorales en esta materia una vez que en los alumnos se despertó el interés por la evolución histórica de la profesión elegida...
The history of the Spanish dentistry has been the subject of increasing attention in recent years within the progressive importance for the history of science, and specifically at the history of medicine, has been paid to the study of evolution and historical development of the various scientific disciplines. In particular, in the case of this plot have been conducted and published several monographs on institutions, corporations, characters, periods, texts, etc., that provide a quite acceptable vision of his overview. However, studies still insufficient about the historical evolution of Spanish dentistry, particularly in the twentieth century, when it consolidated its character of scientific discipline and acquired its autonomy from Medicine century when the Spanish Dentistry underwent changes deeper than rose to the height of traditional medical specialties. The Spanish Dentistry, as we say, is becoming better known by both dentists themselves as a collective of historians in recent years because of one main reason: its implementation as a subject in the Bachelor of Dentistry in 1986. Suffice it to recall that until then all his baggage consisted of only two lessons included in the program of another subject. However, its implementation as a subject in its own right, though not in all Spanish Faculties of Dentistry, it is true, had the logical consequence of the increase in the development of a number of dissertations, advanced degrees (AEDs) and dissertations in this area once the students' interest through the historical evolution of their chosen profession. As expected, also sprouted some forums for the cultivation of the history of dentistry. Almost simultaneously emerged in Mexico in the mid-nineties, the Spanish Society for the History and Sociology of Dentistry (SEHYSO), whose activity suddenly froze, and the Spanish Society for the History of Dentistry (SEHO) has held recently the XIII International Congress and VIII, as well as participating in international forums like targets...
Description
Tesis inédita de la Universidad Complutense de Madrid, Facultad de Geografía e Historia, Departamento de Historia Contemporánea, leída el 14/01/2016
Collections