Publication:
Guía multimedia de producción y vitrificación de embriones en la especie bovina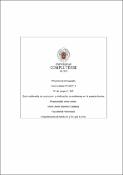 Advisors (or tutors)
Editors
Abstract
La aplicación de las nuevas biotecnologías de la reproducción en las explotaciones ganaderas produce un aumento en la producción, así como una mejora genética rápida y notable. Por ello, estas técnicas tienen gran relevancia y son de estudio obligado en el grado de Veterinaria. Su evolución es muy dinámica y mantener los conocimientos actualizados es complicado. El diseño de nuevas herramientas que adecuen la metodología de enseñanza a las nuevas tecnologías es un modo de facilitar estos conocimientos a las nuevas generaciones de estudiantes. En el presente proyecto, se ha realizado una guía multimedia de producción y vitrificación de embriones centrada en la especie bovina. Dicha guía interactiva incluye videos de los procedimientos (aplicación de fármacos, inseminación artificial, recuperación de embriones, evaluación de la calidad embrionaria, vitrificación y transferencia de embriones a las hembras receptoras) así como documentos que describen los protocolos para cada uno de los procedimientos. Todos estas herramientas están subidos en una página web creada para el proyecto www.reprovets.org.
The application of new reproductive biotechnologies in cattle produces an increase in the production, as well as a fast and remarkable genetic improvement. Therefore, these techniques have great relevance and are compulsory study in the degree of Veterinary. Its evolution is very dynamic and keeping the knowledge updated is complicated. The design of new tools that adapt the teaching methodology to new technologies is a way to facilitate this knowledge to the new generations of students. In the present project, a multimedia guide for production and vitrification of embryos focused on the bovine species has been made. This interactive guide includes videos of the procedures (drug application, artificial insemination, embryo recovery, embryo quality evaluation, vitrification and embryo transfer to the recipients) as well as documents that describe the protocols for each of the procedures. All these tools were uploaded on a web page created for the project www.reprovets.org.