Publication:
Kapi Solutions: desarrollo y securización de una herramienta de autodefensa digital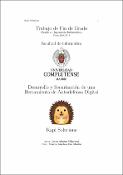 Authors
Advisors (or tutors)
Editors
Abstract
En esta sección resumiré las partes que he desarrollado dentro de este proyecto y la finalidad del mismo. Mi trabajo puede distinguirse en tres fases: • Implementación de una herramienta web orientada al aprendizaje y divulgación de la seguridad informática. Kapi Solutions es una aplicación web en la que el usuario podrá aprender y ayudar en el ámbito de la seguridad digital en función de su sector profesional. Esto significa que: – El usuario podrá aprender de la información proporcionada por sus colegas en la web, independientemente de su nivel de conocimiento en el campo de la seguridad digital ya que proporciona un método de asignación de nivel. – El usuario podrá aprender y apoyar a la comunidad con aportaciones de código sobre la herramienta. – El usuario podrá ayudar a sus colegas aportando información con artículos y preguntas. – El usuario podrá apoyar a la comunidad aportando votos positivos o negativos a los artículos que están en fase de revisión, así como sugiriendo modificaciones de aquellos que ya existan. • Integración de la herramienta para portabilizarla y facilitar su desarrollo y despliegues. El desarrollo compartido de una herramienta es complicado, para poder ofrecernos a una comunidad de desarrollo y poder tener la aplicación web portable de la manera más cómoda posible, tendré que decidir qué subsistemas de virtualización o alternativas existen. • Analizar la herramienta en busca de vulnerabilidades para securizarla. Una vez terminada la aplicación y debidamente desplegada, analizaré las vulnerabilidades que ofrece y resolveré aquellas necesarias.
In this section, I will sume the parts I have developed on this proyect and it's goals. My work could be splitted into three parts: • Development of a web based tool focused on learning and divulge about digital security. Kapi Solutions is a web application where the user could learn and help about digital security oriented to his/her profession skills. That means: – The user could learn with the information provided by his/her collegues on the web, regardless of his/her knowledge level about the digital security field because we provided a method to reach your real level. – The user could learn and support the community with code contributions to the tool. – The user could help his/her collegues supporting with new articles and questions. – The user could support the community voting the articles on th review stage, such as uploading new modifications on the existing ones. • Portable tool integration to facilitate development and deployment. Sharing a development over one tool, is hard, if we want to offer us to a development community and port the tool in the easiest way, I Will choose over virtualizing tools and other alternatives to get this way. • Analize the tool, looking for security vulnerabilities to solve them and make the tool more secure. Once the tool is finished and deployed, I will analize it to find security vulneravilities, I will study them and solve the most of them.
Description
Trabajo de Fin de Grado, Facultad de Informática UCM, Departamento de Arquitectura de Computadores y Automática, curso 2018/2019