Publication:
La sistematización de la violencia para el desarrollo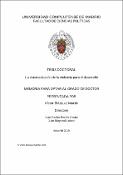 Files
Authors
Advisors (or tutors)
Editors
Publisher
Universidad Complutense de Madrid
Abstract
Esta investigación comenzó con la intención de comprender el significado que la violencia adquiere en el sistema de Cooperación Internacional para el Desarrollo. Para ello, partió de una intervención llevada a cabo en el Área Metropolitana de San Salvador, El Salvador, entre el año 2008 y 2009: Fortalecimiento institucional en el Área Metropolitana de San Salvador para la cohesión social y la seguridad ciudadana. Esta intervención constituye el caso sobre el que se articulará la investigación. Desde ella se dirigirá al discurso del sistema de cooperación al desarrollo, en tanto entidad con capacidad para aportar soluciones frente a la situación de inseguridad que se vive en el AMSS. Esta situación remite a nuevos fenómenos de violencia, asociados al mayor número de muertes violentas en el mundo en la actualidad. A este respecto, la mayoría de investigaciones se centran en analizar los costos que conlleva la violencia y las limitaciones que por ello mismo significa para el objetivo del desarrollo humano. Pero pocas de ellas centran su atención en la propia representación de la violencia que aparece en el sistema de CID y, así, en la finalidad intrínseca del desarrollo con respecto a la violencia, es decir, a las soluciones que aporta ante ella. Este es precisamente el lugar hacia el que se dirige el análisis: el sistema de representaciones sobre la violencia que puso en práctica la intervención, en tanto constructo teórico-discursivo resultado de la aplicación del sistema de CID...
This research began with the intention of understanding the meaning that violence acquires in the system of International Development Cooperation. For this, it will start with an intervention carried out in the Metropolitan Area of San Salvador (AMSS), El Salvador, between 2008 and 2009: Institutional strengthening in the Metropolitan Area of San Salvador for social cohesion and citizen security. This intervention will constitute the case on which the research will be articulated. From there, it will address the discourse of the development cooperation system, as an entity with the capacity to provide solutions to the situation of insecurity that the AMSS lives. This situation refers to new phenomena of violence, associated with the greatest number of violent deaths in the world nowadays. In this regard, most of the research focuses on analysing the costs of violence and the limitations it implies for the objective of human development. But few of them focus their attention on the very representation of violence that appears in the development cooperation system and, thus, on the intrinsic purpose of development with respect to violence, that is, the solutions it brings to it. This is precisely the place where the analysis is directed: the system of representations about violence that put the intervention into practice, as a theoretical-discursive construct resulting from the application of the cooperation system...
Description
Tesis de la Universidad Complutense de Madrid, Facultad de Ciencias Políticas y Sociología, leída el 03-12-2018
Collections