Publication:
Uso de juegos serios para mejorar el aprendizaje de la programación en la escuela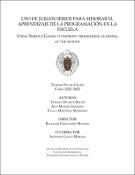 Advisors (or tutors)
Editors
Abstract
Los juegos serios son aquellos juegos cuyo objetivo principal no es entretener, sino que tienen un propósito más allá de esto, como pueden ser la educación, la publicidad, la sanidad, etc. En este proyecto, se busca promover y enseñar conceptos de programación en escuelas mediante el uso de un videojuego. La programación, en su forma más general, requiere de una preparación y unos conocimientos previos, y adquirirlos puede ser un proceso más o menos arduo, dependiendo de la persona y sus habilidades lógicas. Lo que sí es bien sabido es que las facilidades de comprensión y memorización son mucho mejores cuanta menor edad tenga la persona. Por otro lado, la lógica computacional facilita y abre muchas puertas en nuestras vidas, no solo a nivel informático sino también a nivel creativo, a un mayor desarrollo lingüístico, a un razonamiento crítico y, por su gran relación y parecido con la lógica matemática, permite comprender mejor la optimización y el análisis de algoritmos. Es por todo esto, que este videojuego en el que está enfocado el proyecto busca enseñar en las escuelas conceptos básicos de programación, mediante una serie de niveles con dificultad progresiva. A su vez, la familiarización de los niños con los videojuegos y la tecnología es cada año más creciente, de forma que proyectos relacionados con videojuegos son muy cercanos y ayudan a la motivación de los niños a continuar con el aprendizaje, viéndolo más como un juego que como una tarea.
Serious games are those games whose main objective is not to entertain, but seek a purpose beyond this, such as education, advertising, healthcare, etc. In this project, we want to promote and teach programming concepts in schools through the use of a videogame. Programming, in its most generic form, requires preparation and prior knowledge, and acquiring this knowledge can be an arduous process, depending on the person and their logical capabilities. What is well known, however, is that the younger the person is, the better the comprehension and memorization facilities. On the other hand, computational logic makes it easier and opens many doors in our lives, not only at a computer level but also at a creative level, to a greater linguistic development, to a critical reasoning and, due to its great relationship and similarity with mathematical logic, it allows to better understand the optimization and analysis of algorithms; besides, this type of logic is not the most trained and taught in schools or homes. It is for all these reasons that this video game on which the Project is focused seeks to teach basic programming concepts in schools through a series of levels with progressive difficulty. Also, the familiarization of children with video games and technology is growing every year, so that projects related to video games help to motivate children to continue learning, as they see it more as a game than as a task.
Description
Trabajo de Fin de Grado en Desarrollo de Videojuegos, Facultad de Informática UCM, Departamento de Ingeniería del Software e Inteligencia Artificial, Curso 2021/2022. El desarrollo del proyecto se estructura en hitos compuestos de varios sprints semanales, siguiendo una metodología SCRUM. Se puede encontrar el código completo de este TFG en este repositorio de GitHub: https://github.com/TFG-Articoding/Articoding