Publication:
La poética del espacio en la obra de Anna Maria Ortese: Nápoles, Milán y la insularidad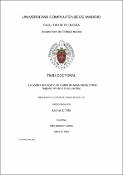 Files
Authors
Advisors (or tutors)
Editors
Publisher
Universidad Complutense de Madrid
Abstract
En la presente Tesis de Doctorado se aborda la poética del espacio en la obra de Anna Maria Ortese, en la cual encontramos una complejidad dialéctica entre las ciudades de Nápoles y Milán y un más allá, representado por una isla. En el encuadre teórico se hace constante referencia a la producción crítica más relevante de las últimas décadas en el campo del estudio morfológico y simbólico de las relaciones espaciales, dentro de la producción literaria. A este respecto, la obra de Gastón Bachelard constituye sin duda un importante punto de partida, así como los elementos teóricos procedentes del grupo de investigación de la UCM "Viajar por la ciudad". Incursiones en otros ámbitos del arte, más allá del estrictamente literario, especialmente en él de la pintura, han representado otro recurso relevante para llevar a cabo el presente estudio. Se ha establecido una dialéctica con la pintura de El Greco, por un lado, y el vedutismo napoletano, por el otro, que nos han ayudado a descifrar la poética de Ortese, una escritora tan proclive a la fantasía visionaria. [ABSTRACT]The hypothesis of the present work is the nuclear value of the space and the memory in Anna Maria Ortese's literature, where a dialectical complexity between the cities of Naples and Milan, in opposition to a "place beyond" represented by a peculiar islander space. We will constantly mention the most outstanding critical production in the last decades in the field of the morphological and symbolic study of space relationships. In this regard, the work of Gastón Bachelard constitutes an important starting point. The present work will also incorporate theoretical elements coming from the Research Group "Viajar por la ciudad". We have also established a dialectical link with some outstanding moments of Art History – especially with El Greco and the vedutismo napoletano - which helped us to decipher Ortese's poetics, always prone to visionary fantasy.
Description
Tesis inédita de la Universidad Complutense de Madrid, Facultad de Filología, Departamento de Filología Italiana, leída el 10-12-2013
Collections