Publication:
Potenciación de la liberación de glutamato por los receptores metabotrópicos de glutamato de tipo 7 y β-andrenérgicos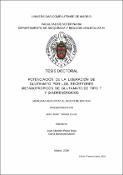 Files
Authors
Advisors (or tutors)
Editors
Publisher
Universidad Complutense de Madrid
Abstract
La comunicación entre las neuronas es la base del funcionamiento cerebral y se establece por medio de uniones celulares altamente especializadas, denominadas sinapsis. En las sinapsis químicas, esta comunicación es mediada por la liberación de neurotransmisores desde el terminal presináptico, que da lugar a la despolarización de la neurona postsináptica. Los neurotransmisores son almacenados en vesículas sinápticas, que se organizan en torno a la denominada zona activa. Esta región de la membrana presináptica localiza las proteínas necesarias para el proceso de fusión de las vesículas sinápticas, denominadas maquinaria de exocitosis, así como una gran concentración de canales de calcio dependientes de voltaje. La llegada del potencial de acción a la zona activa induce la entrada de calcio a través de estos canales, que activa la maquinaria de exocitosis, provocando la fusión de las vesículas cargadas de neurotransmisores. Para que se produzca la fusión de las vesículas sinápticas, estas deben estar físicamente en contacto con la membrana de la zona activa (proceso de colocación o docking) y en un estado molecular competente para la fusión (proceso de preparación o priming). Estos procesos dependen de la acción de la maquinaria proteica de exocitosis, que comprende diversas proteínas (Sudhof et al., 2013), como Munc13, una proteína activada por diacilglicerol esencial para el proceso de preparación de las vesículas sinápticas (Rhee et al., 2002), que requiere para su acción su interacción con la proteína RIM (Deng et al., 2001)...
The communication between neurons is the basis of the brain function. At chemical synapses, this phenomenon is mediated by neurotransmitter release from the presynaptic terminal, which subsequently induces a response in the postsynaptic neuron. Neurotransmitters are stored in synaptic vesicles which are distributed along the presynaptic boutons and close to the active zone. This presynaptic plasma membrane region localizes the proteins that are involved in vesicle fusion, known as the release machinery, and a high concentration of voltage dependent calcium channels. The arrival of an action potential to the active zone gates calcium influx through voltage dependent calcium channels, thereby activating the release machinery and triggering the synaptic vesicles fusion with the active zone plasma membrane, and the synaptic transmission. Synaptic vesicles must be physically attached to the active zone membrane (docking) and achieve a competent molecular state for fusion (priming). The release process involves the action of the release machinery that includes several proteins (Sudhof 2013), such as Munc13, a DAG-binding protein essential for the priming of synaptic vesicles for the release (Rhee et al., 2002) through its interaction with RIM protein (Deng et al., 2011)...
Description
Tesis inédita de la Universidad Complutense de Madrid, Facultad de Veterinaria, Departamento de Bioquímica y Biología Molecular IV, leída el 15-07-016
Collections