Publication:
Mecanismo de acción y efecto de la suplementación nutricional con selenio en la calidad de la carne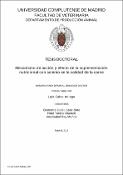 Files
Authors
Editors
Publisher
Universidad Complutense de Madrid
Abstract
Esta tesis se centra principalmente en el estudio de la carne de cerdo. Uno de los parámetros principales de calidad que la definen, y el que actualmente genera mayor número de reclamaciones en la venta en fresco es su capacidad de retención de agua y los exudados que genera. Pese a contener un alto contenido en humedad (alrededor del 75%) la carne tiene una apariencia sólida debido en gran medida a una alta capacidad para retener líquido en sus estructuras. No obstante, la apariencia externa brillante y jugosa se debe al agua superficial, por lo que es esencial que el agua no se encuentre íntegramente retenida en su interior, lo que proporcionaría una apariencia oscura y seca. Por tanto existe un delicado equilibrio en el que cualquier desviación en uno u otro sentido provocan consecuencias indeseables. La capacidad de retención de agua (CRA) puede definirse como la habilidad de la carne de retener el agua tras el corte y/o la aplicación de fuerza (1), mientras que la pérdida de agua o exudado es la cantidad de fluído expelida de un trozo de carne sin la acción de otra fuerza que la gravedad (2). Se estima que más del 50% de la carne producida presenta merma excesiva (superior al 3%) (3, 4). Actualmente en España se crían y sacrifican más de 40 millones de cerdos/año, lo que supone unos 275 millones de kg de cinta que con un precio de mercado en torno a 6 €/kg, puede estimarse una merma económica sólo en esta pieza de 25 millones de €/ En términos nutricionales, dado el contenido proteico del exudado (aproximadamente 112 mg/ml) (5) ésta merma supone el desperdicio de 500.000 kg de proteínas sarcoplásmicas. El objetivo concreto de esta tesis doctoral es el estudio del uso de antioxidantes y más específicamente selenio orgánico como medio para optimizar la retención de agua en la carne, minimizando pérdidas y manteniendo los atributos de apariencia y calidad. Se considera que esta optimización debe permitir tanto la obtención de una apariencia atractiva en la que se minimicen pérdidas excesivas de importancia económica como la mejora de la calidad y las propiedades tecnológicas de la carne. Se han desarrollado tres experimentos en los que se ha ensayado el efecto del aporte de 0.2 ó 0.4 mg Se/kg de pienso de una forma mineral (selenito sódico) u orgánico durante el periodo final de cebo (9-10 semanas y 4 semanas antes del sacrificio). Se ha observado que la forma orgánica mejora el estatus oxidativo de la carne, generando cambios en el color y una mayor concentración de este mineral en la carne. Asimismo se observa un efecto sobre la concentración de ácidos grasos, con un aumento de los monoinsaturados frente a los saturados, lo que puede ser debido a una mayor actividad de la enzima Δ9-desaturasa. El resultado más destacado se centra en el efecto que tiene el selenio orgánico sobre la actividad proteolítica post-mortem y su relación con la capacidad de retención de agua de la carne. Se propone que puede tener un mecanismo de acción similar al de la vitamina E, protegiendo a las calpaínas del deterioro oxidativo durante los primeros momentos tras el sacrificio.
This thesis focuses on pig meat. Among the quality characteristics that define it, the one generating more issues while sold as fresh meat or processed products is its water holding capacity and concomitant drip loss. Despite its high moisture content (estimated circa 75%) meat has a solid appearance, among others due to the high water holding capacity of its structure. Nevertheless, its juicy shiny aspect is due to the superficial water so it is essential that the water is not fully restrained inside the meat as it would render it dry and dark. Therefore, there is a delicate balance where any dissadjustment in any direction might render undesired consequences. The Water Holding Capacity (WHC) can be defined as the ability of meat to retain water after cutting and/or the application of some force (1) while the drip loss is the fluid which can be expelled from a piece of meat without mechanical force other than gravity (2). It is estimated that over 50% of the pig meat produced has unacceptable high drip (over 3%) (3, 4). Nowadays Spain produces and slaughters about 40 million pigs per year. This provides about 275 million boneless loin which cost about 6 €/kg, estimating a loss of 25 million € a year as weight loss, limiting the drip to the loin. Giving that drip contains approx 112 mg of protein per ml (5). This also means the waste of 500.000 kg of valuable sarcoplasmic proteins. The purpose of the thesis is to evaluate the use of antioxidants and specifically organic selenium as a mean to optimize the WHC of the meat reducing drip loss, while maintaining its organoleptic attibutes. This should enable us to obtain an attractive appearance minimizing excessive losses while improving the technical properties of meat. Three experiments have been carried out to study the effect of supplementing pig diets with either 0.2 or 0.4 mg Se/kg in a mineral (sodium selenite) or organic form in late fattening (either 9-10 or 4 weeks prior to slaughter. It has been observed that the organic form improves the oxidative status of meat, including the color, and increases the concentration of this mineral in muscle tissue. Moreover, an effect on fatty acid composition was also observed, with a higher concentration of monounsaturated and a concomintant decrease in the concentration of saturated fatty acids. This may be due to a regulatory effect of the enzyme Δ9-desaturase. Probably the most relevant result is that the organic form of selenium increases proteolytic activity post-mortem, which is probably responsible of the higher water holding capacity of pork. It is proposed that a possible mechanism may be the protective effect of oxidative deterioration of calpains, which play a critical role in initial steps of proteolysis soon after harvesting.
Description
Tesis de la Universidad Complutense de Madrid, Facultad de Veterinaria, Departamento de Producción Animal, leída el 14/06/2017. Tesis formato europeo (compendio de artículos)
Collections