Publication:
Relatos culturales y discursos jurídicos sobre la violación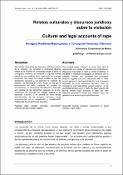 Advisors (or tutors)
Editors
Publisher
Universidad Autónoma de Barcelona, España
Abstract
Ese articulo trata sobre los discursos culturales acerca de la violación. Se comparan y contrastan algunos relatos de la violación en la mitología griega, la biblia, la iconografía medieval, la literatura y algunas teorías científicas que explican dicho fenómeno. La principal conclusión que surge de nuestro análisis es que las agresiones sexuales y, en concreto, la violación de mujeres, se legitiman en cierto modo, ya sea por la minimización del daño, mediante un proceso de normalización, un proceso de naturalización o haciendo una estética de las agresiones sexuales en el arte. Finalmente se analizan los códigos legales y su desarrollo histórico, y se percibe en ellos ciertas reminiscencias de los antiguos discursos, cuyas consecuencias son la interpretación y consideración inadecuada de las agresiones sexuales.
The present paper attempts to show how rape is represented in a variety of historical and contemporary discourses. Examples of rapes in Greek mythology, in the Bible, in medieval iconography, in literature, and in scientific theories, are compared and contrasted. Analysis suggests that such discourses tend to make sexual aggression (and specifically the rape of women) legitimate, be it by minimizing the harm done; by normalizing and naturalizing sexual violence; or by aesthetisizing rape as art. Finally, the paper argues that putting modern legal accounts of rape into their historical perspective brings into sharper focus the persistence of ancient myths and discourses.
Collections