Publication:
La derecha española dividida: posiciones ideológicas y clivaje territorial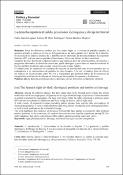 Advisors (or tutors)
Editors
Publisher
Universidad Complutense de Madrid
Abstract
Entre los diferentes cambios que han tenido lugar en el sistema de partidos español, el presente artículo se centra en el cese de la hegemonía de un único partido en el ámbito de la derecha. Se necesita de un análisis detenido de la distribución del electorado de derecha alrededor de un partido histórico (PP) y de dos nuevos partidos (Ciudadanos y Vox), este último, de derecha radical. Mediante diversas fuentes de evidencia empírica que incluyen datos de opinión pública, de expertos y programas electorales, se aborda la orientación, perfil ideológico y posiciones en materia territorial de los tres partidos de derecha que cuentan con proyección en toda España. El trabajo pone de manifiesto la existencia de espacios de proximidad entre los tres partidos que se contraponen a las orientaciones de partidos de otros bloques. A la vez, el análisis pone de relieve los matices en las posiciones entre PP, Vox y Ciudadanos que permiten hablar de la existencia de competición en el interior del bloque de derecha por la conquista de espacios y de electores
Among the different changes that have taken place in the Spanish party system, this article tackles the end of one single party´s hegemony on the right of the ideological spectrum. Further attention is needed to analyze the emergence of a three party logic within the right, consisting in a historic party (PP) and two new parties (Ciudadanos and Vox), being the latter a radical right party. A wide variety of empirical evidence including public opinion data, experts' data and analysis of electoral programmes is used to study the three right-wing parties' orientation, their ideological profiles, as well as their positions on the territorial cleavage. The work highlights the existence of closeness between the three parties in contrast to other political parties' positions. At the same time, the analysis discovers nuances in political positions among PP, Vox and Ciudadanos that allow competition within rightist parties regarding issues and voters.
Collections