Publication:
La enseñanza de los derechos humanos en la Universidad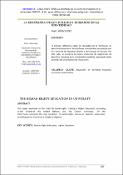 Authors
Advisors (or tutors)
Editors
Abstract
El artículo reflexiona sobre la necesidad de la formación en derechos humanos en la enseñanza universitaria, de acuerdo con el criterio de las Naciones Unidas y del Consejo de Europa. Por otro lado, se comenta la escasa incidencia de asignaturas de derechos humanos en la universidad española, aportando datos parciales de una muestra de titulaciones.
This paper examines on the need for human rights training in Higher Education, according to the criteria of the United Nations and the Council of Europe. On the other hand, comments the low incidence of human rights courses in& Spanish& universities, providing partial data from a sample of degrees.
Citation
BOLTANSKI, Luc y CHIAPELLO, Ève (2002). El nuevo espíritu del capitalismo. Madrid: Akal. CAMPOS LANGA, Arturo (2006). Universidad y mercado: una reflexión acerca del actual proceso de convergencia europea. Youkali, 2, 87-102. MANZANO ARRONDO, Vicente (2011). La función comprometida de la universidad. Tesis doctoral presentada en la Universidad de Valladolid. MARTÍNEZ MARTÍN, Miquel (2006). Formación para la ciudadanía y educación superior" en Revista Iberoamericana de Educación, 42, 85-102. MATTELART, Armand (2002). Premisas y contenidos ideológicos de laSociedad de la Información. En Vidal Beneyto, J. La ventana global, pp. 65-80. Madrid: Taurus. MOLES PLAZA, Ramón J. (2006) ¿Universidad S.A.? Público y Privado en la educación superior. Barcelona: Ariel. NIEMI, R.G. y JUNN, J. (1998). Civic Education. What Makes Students Learn. New Haven/Londres: Yale University Press. NOIVILLE, Florence (2011). Soy economista y os pido disculpas. Barcelona: Deusto. NUSSBAUM, Martha C. (2010). Sin fines de lucro: por qué la democracia necesita de las humanidades. Madrid/Buenos Aires: Ed. Katz. PERCHERON, A. (1993). La socialisation politique. Paris: Armand Colin. PRIETO LACACI, Rafael (2005). La socialización en el aula universitaria. En Chamorro, M.C. y Sánchez Delgado, P. Iniciación a la docencia universitaria: manual de ayuda, pp. 259-280. Madrid: Universidad Complutense de Madrid. UNIVERSIDAD PÚBLICA DE NAVARRA (2009). Valores en los nuevos planes de estudio. Documento interno con fecha 4 de febrero de 2009.
Collections