Publication:
Nanoliposomas a partir de productos naturales infrautilizados y residuos agroalimentarios como ingrediente funcional en alimentos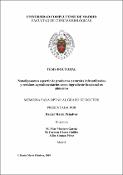 Files
Authors
Advisors (or tutors)
Editors
Publisher
Universidad Complutense de Madrid
Abstract
Los liposomas son vesículas esféricas coloidales, formadas por una bicapa lipídica de fosfolípidos englobando un núcleo acuoso, lo que le confiere carácter anfipático, y la posibilidad de incorporar bioactivos de diferente composición y naturaleza, con propiedades funcionales. Su tamaño nanométrico y similitud con las membranas biológicas, les permite atravesar eficazmente las células intestinales, protegiendo al bioactivo e incorporándolo al torrente sanguíneo. El uso de materias primas infrautilizadas o desechadas por la industria alimentaria garantiza el carácter natural de los liposomas, así como el bajo coste del producto final, dándole un uso integral a dichas materias primas. Su composición, rica en ácidos grasos insaturados, les confiere un carácter de ingrediente saludable. La protección de compuestos activos/bioactivos mediante la encapsulación de los mismos para mantener por más tiempo, tras el procesado e ingesta, la actividad biológica es un mecanismo de gran interés. La encapsulación en nanoliposomas es un ejemplo de ello. El objetivo de este proyecto, fue la obtención de nanoliposomas basados en productos naturales infrautilizados y residuos de la industria agroalimentaria, para su aplicación como ingrediente alimentario, de acuerdo a su reciente inclusión en la definición de nuevo alimento según el Reglamento Europeo (nº 2015/2283)...
Liposomes are colloidal spherical vesicles formed by an aqueous core surrounded by a lipidbilayer of phospholipid, which confer them an amphipathic character, and the capacity to incorporate inside bioactives of different composition and nature, with functional properties. Their nanometric size and similarity with the biological membranes would let them to cross efficiently through intestinal cells protecting the bioactive, which would be incorporate to the bloodstream. The use of underutilized or waste raw materials from the food industry guarantee the natural character of the liposomes and the low cost of the final product, contributing to the integral use of the raw materials. Its composition, rich in unsaturated fatty acids, confirms a healthy ingredient character. A very interesting mechanism to keep the biological activity of the active/bioactive compounds for more time after the processed and the intake is their protection through the encapsulation process. The encapsulation in nanoliposomes is an example. The objective of this project was the obtaining of nanoliposomes based on underutilized natural products and wastes, to their application as food ingredient, according to the recent inclusion of liposomes in the definition of new food into the European Regulation (nº 2015/2283)...
Description
Tesis inédita de la Universidad Complutense de Madrid, Facultad de Ciencias Biológicas, leída el 16-07-2019
Collections