Publication:
Propuesta y análisis de un cuestionario complejo, basado en variables relacionadas con el paciente, dirigido a medir la percepción del tratamiento periodonta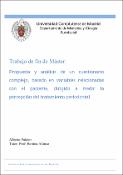 Authors
Advisors (or tutors)
Editors
Abstract
Objetivo: Recientemente tanto en la investigación como en la clínica periodontal se ha incrementado el interés por el estudio de las variables centradas en el paciente. El objetivo de este estudio es medir el impacto de la terapia periodontal desde la perspectiva del sujeto tratado mediante la utilización y la organización de un nuevo cuestionario basado en variables relacionados con el paciente(QIPET). Material y Métodos: Se ha realizado un estudio transversal con análisis retrospectivo incluye 34 pacientes periodontales procedentes del Máster de Periodoncia de la Facultad de Odontología de la Universidad Complutense de Madrid. A los pacientes se les entregó un nuevo cuestionario de 26 preguntas, ideado para analizar su percepción de la calidad del tratamiento periodontal(QIPET). Se recopilaron y analizaron también los registros periodontales de todos los individuos. El QIPET se reorganizó y estructuró para medir el impacto de la terapia periodontal con respecto a la satisfacción (preguntas independientes), el estado de saludmorbilidad (agrupando 5 preguntas con diferentes objetivos) y la calidad de vida percibida por los pacientes (14 preguntas). Se agrupó la muestra y se analizaron los resultados en función de tres variables (hábito tabáquico; intensidad del tratamiento; éxito del tratamiento) con el fin de ver si las mismas podían producir diferencias significativas en los resultados. Resultados: El dolor y la morbilidad experimentados por los pacientes a lo largo del tratamiento fueron relativamente bajos, disminuyendo en la fase post‐tratamiento (2,86). El grado de satisfacción obtenido en relación a la terapia, fue muy positivo en algún aspecto (8,79; 9,44) aunque la mejoría estética fue poco evidente. El impacto de la salud periodontal en la calidad de vida mostró un valor muy bajo, lo que indica una asociación muy positiva con la terapia periodontal (7,97). El hábito tabáquico marcó diferencias estadísticamente significativas en varias preguntas de las áreas de interés analizadas. Conclusión: En este grupo de pacientes periodontales se observó un impacto de la terapia periodontal muy positivo en su calidad de vida, ya que la puntuación obtenida por el cuestionario de 14 preguntas del QIPET, fue muy baja. Los individuos asociados con un perfil tabáquico demostraron presentar una repercusión negativa tanto en la percepción del dolor y morbilidad como en la calidad de vida.
Citation
1. Socransky S, Haffajee A, Cugini M, Smith C, Kent J. Microbial complexes in subgingival plaque. J Clin Periodontol. 1998 Oct. 28;25(2):134–144. 2. Loe H, Theilade E, Jensen S. Experimental Gingivitis in Man. Journal of Periodontology. 1965 May 8;36:5–15. 3. Lindhe J, Hamp S, Loe H. Plaque induced periodontal disease in beagle dogs. A 4‐year clinical, roentgenographical and histometrical study. J Periodontal research; 1975. 4. Loe H, Arneud A, Boyse H, Morrison E. Natural history of periodontaldisease in man. J Clin Periodontol. 1986 May 31;13:431–440. 5. Tatakis DN, Trombelli L. Modulation of clinical expression of plaque‐induced gingivitis. I. Background review and rationale. J Clin Periodontol. 2004 Apr.;31(4):229–238. 6. Scapoli C, Tatakis D, Trombelli L. Modulation of Clinical Expression of Plaque‐Induced Gingivitis: Interleukin‐1 Gene Cluster Polymorphisms J Periodontol. 2005 Jan. 18;76:1–8. 7. Page R, Kornaman K. The pathogenesis of human periodontitis: an introduction. Peridodontology 2000. 1997 Jun. 15;14(1):9–11. 8. Loos B, Van der Velden U. Genetics in relation to periodontitis Lang, Karring, Lindhe E, editors. 2003. 9. Armitage G. Development of a Classification System for Periodontal Diseases and Conditions. Ann Peridontology. 1999 Dec. 10;4:1–6. 10. Albandar J, Rams T. Global epidemiology of periodontal diseases: an overview. Peridontology 2000. 2002 Jul. 10;29:1–4. 11. Susin C, Haas A, Albandar J. Epidemiology and demographics of aggressive periodontitis. Periodontology 2000. 2014 May 15;65:27–45. 12. Preshaw PM, Heasman L, Stacey F, Steen N, McCracken GI, Heasman PA. The effect of quitting smoking on chronic periodontitis. J Clin Periodontol. 2005 Aug.;32(8):869–879. 13. Axelsson P, Nystrom B, Lindhe J. The long‐term effect of a plaque control program on tooth mortality, caries and periodontal disease in adults. Results after 30 years of maintenance. J Clin Periodontol. 2004 Sep.;31(9):749–757. 14. Lang N, Tonetti M. Periodontal Risk Assessment (PRA) for Patients in Supportive Periodontal Therapy (SPT). Oral Health & Preventive Dentistry. 2003 Jan. 12;:7–16. 15. Heitz‐Mayfield LJA, Trombelli L, Heitz F, Needleman I, Moles D. A systematic review of the effect of surgical debridement vs. non‐surgical debridement for the treatment of chronic periodontitis. J Clin Periodontol. 2002 Feb. 26;29(Suppl. 3):92–102. 16. Tonetti MS, Cortellini P, Lang NP, Suvan JE, Adriaens P, Dubravec D, et al. Clinical outcomes following treatment of human intrabony defects with GTR/bone replacement material or access flap alone. A multicenter randomized controlled clinical trial. J Clin Periodontol. 2004 Sep.;31(9):770–776. 17. Hircschfeld L, Wasserman B. A Long‐term Survey of Tooth Loss in 600 Treated Periodontal Patients. J Periodontol. 1978 May 20;49(5):225–237. 18. Cortellini P, Tonetti MS. Long‐Term Tooth Survival FollowingRegenerative Treatment of Intrabony. J Periodontol. 2004 May 10;75(5):672–678. 19. Greenstein G. The Use of Surrogate Variables to Reflect Long‐Term Tooth Survivability. Journal of Periodontology. 2005 Aug. 16;76:1398–1401. 20. Kalkwarf K, Kaldahl W, Patil K. Patient preference regarding 4 types of periodontal therapy following 3 years of maintenance follow‐up. J Clin Periodontol. 1992 May 10;19:788–793. 21. Matthews D, McCulloch C. Evaluating Patient Perceptions as Short‐Term Outcomes of Periodontal Treatment: A Comparison of Surgicaland Non‐Surgical Therapy*. J Periodontol. 1993 Nov. 14;64:990–998. 22. Fardal O, Johannessen A, Linden G. Patient Perceptions of Periodontal Therapy Completed in a Periodontal Practice. J peridoontal. 2002 Aug. 23;73:1060–1067. 23. Lee J, Song K, Sohn H, Kwon H. Comparison Between Patient Expectation Before and Satisfaction After Periodontal Surgical Treatment. Journal of Periodontology. 2002 Aug. 23;73:1037–1042. 24. Needlman I, Mc Grath C, Floyd P, Biddle A. Impact of oral health on the life quality of periodontal patients. J Clin Periodontol. 2004 May 26;31:454–457. 25. Cunha‐Cruz J, Hujoel PP, Kressin NR. Oral health‐related quality of life of periodontal patients. J Periodontal Res. 2007 Apr.;42(2):169–176. 26. Kinane D, Peterson M, Stathopoulou P. Environmental and other modifying factors of the periodontal diseases. Munksgaard JC2B, editor. Periodontology 2000. 2006 Jan. 2;40(1):107–119. 27. DiFranza J, Wellman R. A sensitization–homeostasis model of nicotine craving, withdrawal, and tolerance: Integrating the clinical and basic science literature. Nicotine & Tobacco Research. 2005 Feb. 1;7(1):9–26. 28. Ramseier C, Fundak A. Tobacco use cessation provided by dental hygienists Int J Dent Hygiene. 2009 Jul. 7;7:39–48. 29. Locker D, Allen F. What do measures of "oral health‐related quality of life" measure? Commun Dent Oral Epidemiol. 2007 Dec.;35(6):401–411. 30. Muhlemann H, Son S. Gingival Sulcus Bleeding‐ a leading symptom in initial gingivitis. Helvetica Odontologica Acta. 1971 Oct. 7;:107–113. 31. O'Leary T, Drake R, Naylor J. The Plaque Control Record. Journal of Periodontology. 1972 Dec. 7;43:38. 32. Claffey N. Decision making in periodontal therapy. Journal of Clinical Peridoontology. 1991 May 12;18:384–389. 33. Axelsson P, Lindhe J. The signficance of maintenance care in the treatment of periodontal disease. J Clin Periodontol. 1981 May 21;8:281–294. 34. Åslund M, Suvan J, Moles DR, D'Aiuto F, Tonetti MS. Effects of Two Different Methods of Non‐Surgical Periodontal Therapy on Patient Perception of Pain and Quality of Life: A Randomized Controlled Clinical Trial. Journal of Periodontology. 2008 Jun.;79(6):1031–1040. 35. Saito A, Hosaka Y, Kikuchi M, Akamatsu M, Fukaya C, Matsumoto S, et al. Effect of Initial Periodontal Therapy on Oral Health–Related Quality of Life in Patients With Periodontitis in Japan. Journal of Periodontology. 2010 Jul.;81(7):1001–1009. 36. Jansson H, Wahlin Å, Johansson V, Åkerman S, Lundegren N, Isberg P‐E, et al. Impact of Periodontal Disease Experience on Oral Health–Related Quality of Life. Journal of Periodontology. 2014 Mar.;85(3):438–445. 37. Tomar SL, Pereyra M, Metsch LR. Oral health‐related quality of life among low‐income adults living with HIV. Journal of Public Health Dentistry. 2011 May 31;(5) 431–440.