Publication:
La fraseología religiosa en la enseñanza de ELE a estudiantes chinos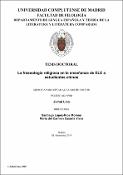 Files
Authors
Advisors (or tutors)
Editors
Publisher
Universidad Complutense de Madrid
Abstract
La fraseología forma parte inherente de la lengua y, sin embargo, no siempre está reflejada en el currículo o presente en el aula de LE. La presente tesis aborda un tema específico dentro de esa gran y complicada materia: la enseñanza de la fraseología religiosa del español a estudiantes chinos. El objetivo final del trabajo es aportar ideas y recursos para la didáctica de dicho grupo de UFs dirigida a los sinohablantes. Para ello, el trabajo se centra en cuatro áreas generales (qué, por qué, quién y cómo) que luego se profundizan en una serie de preguntas más precisas y detalladas distribuidas en seis capítulos y un corpus de la fraseología religiosa...
Phrasemes are an inherent part of language, though they are often times neglected in foreign language lesson plans and classrooms. Within this large and complicated subject, the present dissertation aims to address one specific topic: teaching Spanish religious phraseological units to Chinese students. The ultimate goal of the research is to contribute some ideas and resources for teaching this phraseological group to Chinese learners. The study tackles four general areas: what, why, who and how — each of which is explored through a series of more precise and detailed questions distributed in six chapters and one corpus of Spanish religious phrasemes...
Description
Tesis de la Universidad Complutense de Madrid, Facultad de Filología, Departamento de Lengua Española, Teoría de la Literatura y Literatura Comparada, leída el 19/11/2018
Collections