Publication:
«Ítaca te regaló un hermoso viaje»: estudio mitográfico del Ulises de Franco Mimmi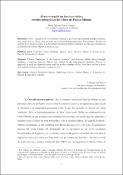 Advisors (or tutors)
Editors
Publisher
Universidad de Castilla la Mancha
Abstract
Resumen: Ulises, "arquetipo de la existencia humana" y personaje que permite múltiples lecturas, está, junto con su Odisea, muy presente en la literatura contemporánea. Pretendemos abordar un estudio de las fuentes clásicas y de las lecturas modernas del héroe griego y su viaje que subyacen en la narración de Franco Mimmi Lontano da Itaca. Abstract: Ulysses, "archetype of the human existence" and character which allows multiple readings, is, together with his Odyssey, very present in the contemporary literature. We try an approach to study the classical sources and the modern readings of the Greek hero and his journey that underlie in Franco Mimmi's Lontano da Itaca.
Collections