Publication:
Short-term Effect of Scleral Lens on the Dry Eye Biomarkers in Keratoconus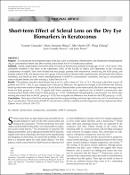 Advisors (or tutors)
Editors
Publisher
Lippincott Williams & Wilkins
Abstract
Purpose: To evaluate the most important signs of dry eye, such as osmolarity, inflammation, and diadenosine tetraphosphate (Ap4A) concentration before and after wearing scleral lenses for 8 h in keratoconus patients. Methods: A pilot, experimental, short-term study involved 26 keratoconus patients (average age, 36.95 ± 8.95 years). They voluntarily enrolled in the study at the Optometry Clinic of the Faculty of Optics and Optometry in the University Complutense of Madrid. They were divided into two groups: patients with intrastromal corneal ring, the ICRS group, and patients without ICRS, the keratoconus (KC) group. Ocular Surface Disease Index questionnaire, the Schirmer test without anesthesia, tear break-up time, matrix metalloproteinase 9 (MMP-9) concentration, osmolarity, and Ap4A concentration were evaluated before and after wearing a scleral lens for 8 h. Results: The patients wore the scleral lenses from 6 to 9 h, with a mean of 7.59 ± 0.73 h. The mean scleral lens sag for all patients was 4310 ± 166.31 μm, ranging from 4200 μm to 4800 μm. No significant changes in the Schirmer test and tear break-up time were found for either group. Ocular Surface Disease Index scores were statistically lower after wearing scleral lenses for both groups (p < 0.05). A significantly lower osmolarity and a significant rise of MMP-9 concentration after wearing scleral lenses were found in both groups (p < 0.05). Diadenosine tetraphosphate concentration was lower after wearing the scleral lens in the KC group (p < 0.05) but no significant difference was found for the ICRS group (p > 0.05). Conclusions: Short-term scleral lens wearing improves the symptomatology and some signs of dry eye, such as osmolarity and Ap4A concentration. The increase of MMP-9 concentration could be caused by tear film stagnation and use of preserved saline.
Description
Received June 14, 2015; accepted September 22, 2015.
Collections