Publication:
Voces de nuevos hablantes, voces de nuevas subjetividades. Emociones y actitudes lingüísticas en el giro poscolonial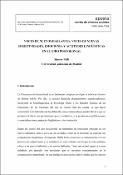 Authors
Advisors (or tutors)
Editors
Abstract
En este artículo se investigará nuevos paradigmas de construcción de la relación entre lengua e identidad en los "nuevos hablantes". La pregunta principal del artículo es cómo construyen los nuevos hablantes su identidad como miembros de la comunidad lingüística en la que se inscribe, tanto desde su propio punto de vista como del de la comunidad que los recibe, y qué implicaciones emocionales tiene este proceso en la construcción de nuevas subjetividades en su visión poscolonial. Se estudiarán los procesos sociales ligados a la experiencia de los sujetos que hablan habitualmente una lengua diferente a la que aprendieron y utilizaron de forma dominante en su socialización primaria.
This paper will research new constructions paradigms in the relationship between language and identity in "new speakers". The main question is how new speakers construct their identity as members of the linguistic community in which they enroll, both from their own point of view as well as from the community that receives them, and which are the emotional implications of this process in the construction of new subjectivities in the post-colonial vision. We will study the social processes related to the experience of subjects who usually speak a different language from the one they learned and used in their primary and dominant socialization.
Collections