Publication:
Economic changes and the meanings of work and money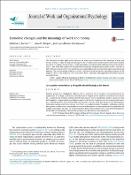 Advisors (or tutors)
Editors
Publisher
Colegio Oficial de Psicólogos de Madrid
Abstract
The literature has shed light on the influence of macro-social contexts on the meanings of work and money. Bearing in mind the impact of changes in the economic cycles in the construction sector in Brazil, our aim is to compare the meanings of work and money, as understood by building construction workers in 2011 and 2015. The sample was composed of two groups, being 302 participants in 2011, and 125 in 2015. We used structured surveys specific to each issue studied, and carried out descriptive and inferential analyses. The results outline differences in the concept of work and money, providing evidence of the negative effects of the economic crisis on workers' lives. Limitations and suggestions for further research are pointed out.
Estudios previos han señalado la influencia de los contextos macro-sociales en la producción de los significados del trabajo y del dinero. Considerando el impacto de los cambios económicos en el sector de la construcción en Brasil, nuestro objetivo fue analizar dichos significados desde el punto de vista del trabajador, comparando dos períodos económicos del sector. Contamos con dos muestras diferentes, una realizada en 2011, que consta de 302 participantes, y otra en 2015, que consta de 125 participantes. Aplicamos cuestionarios estructurados específicos para cada fenómeno estudiado y realizamos análisis descriptivos e inferenciales. Los resultados mostraron diferencias en la percepción de los significados del trabajo y del dinero, así como los efectos negativos de la crisis económica en la vida de los trabajadores. Se describen las limitaciones del estudio y sugerencias para futuras investigaciones.
Collections