Publication:
Litostratigrafia do Jurássico Inferior da região de S. Pedro de Moel (Bacia Lusitânica, Portugal)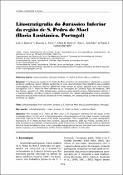 Advisors (or tutors)
Editors
Publisher
Museu Mineralgógico e Geológico da Universidade de Coimbra
Abstract
O Jurássico da região de S. Pedro de Moel constitui uma importante referência no estudo da Bacia Lusitânica. Neste trabalho apresenta-se uma caracterização litostratigráfica das unidades carbonatadas do Jurássico Inferior aflorantes neste sector da bacia, apoiada num novo esboço cartográfico. Em S. Pedro de Moel definem-se as Formações de Coimbra, Água de Madeiros, Vale das Fontes, Lemede e S. Gião, totalizando o intervalo compreendido entre o Sinemuriano Inferior e o Toarciano Médio. As três primeiras unidades mostram um registo estratigráfico muito completo, enquanto as duas mais recentes afloram de forma limitada, em consequência da intensa fracturação existente na região. [ABSTRACT]: The Jurassic in S. Pedro de Moel area is an important reference for the study of the Lusitanian Basin. In this work a lithostratigraphic characterization of the Lower Jurassic carbonate units that crop out in this sector of the basin is presented. This is supported by a new cartographic framework. In S. Pedro de Moel, the Coimbra, Água de Madeiros, Vale das Fontes, Lemede and S. Gião Formations are defined, comprising the Lower Sinemurian to Middle Toarcian interval. Whereas the first three formations show a very complete stratigraphical record, the latter two units are very poorly exposed, as a consequence of the intense tectonic activity in this area.
Collections