Publication:
Aplicación web para la predicción y recomendación de tratamiento para el cáncer de próstata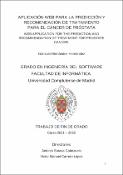 Authors
Advisors (or tutors)
Editors
Abstract
Se ha creado una aplicación web que permite a los usuarios obtener una predicción sobre la probabilidad que un paciente tenga cáncer de próstata, y de que este sea más o menos agresivo con vistas a indicar uno u otro de los tratamientos posibles, a partir de parámetros clínicos, analíticos, radiológicos, etc., reflejados en su historia clínica, además de recomendar posibles acciones a seguir para su vigilancia. La aplicación permite a los usuarios crear historiales de visitas médicas, añadirles nuevas visitas a esos historiales y modificarlos si fuera necesario. La aplicación se ha diseñado para que sea lo más intuitiva y fácil de usar posible.
We created a web application that allows users to obtain a prediction about the probability of a patient, and the level of aggression of the cancer to be able to indicate a possible treatment, based on clinical, analytical, radiological, etc. parameter, reflected in his clinical history, in addition to recommending possible treatments or actions to follow for surveillance. The application allows users to create medical records of patient's visits, add new visits to these records and modify them if necessary. The app has been designed to be as intuitive and easy to use as possible.
Description
Trabajo de Fin de Grado en Ingeniería del software, Facultad de Informática UCM, Departamento de Sistemas Informáticos y Computación, Curso 2021/2022.