Publication:
Una vision paleolimnológica de tres lagos kársticos (Zoñar, Estanya y Taravilla): Evolución sedimentaria y paleohidrológica, clima e impacto humano e implicaciones para la gestión y conservación.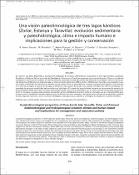 Advisors (or tutors)
Editors
Publisher
Instituto Geológico y Minero de España (Madrid)
Abstract
Se resumen los datos disponibles y previamente publicados de sondeos sedimentarios recuperados en tres lagos kársticos españoles: Taravilla en el Sistema Ibérico (provincia de Guadalajara), Estanya en el Prepirineo aragonés (provincia de Huesca) y Zoñar en el valle del Guadalquivir (provincia de Córdoba). El intervalo temporal que abarcan estas secuencias sedimentarias varía desde el último máximo glacial (desde hace 21000 años en Estanya) hasta el Holoceno tardío (desde hace 4000 en Zoñar y 2000 años en Taravilla). Los resultados muestran la gran variabilidad de ambientes de depósito que se desarrollaron en estos sistemas lacustres, principalmente ligados a fluctuaciones en el nivel de los lagos, la química de las aguas y cambios en las cuencas de drenaje. Los cambios climáticos han sido los principales responsables de esta gran variabilidad sedimentológica e hidrológica. El impacto de las actividades humanas en las cuencas de recepción ha sido perceptible desde época ibero-romana, pero especialmente a partir de la Edad Media, con un claro aumento de las tasas de sedimentación en los lagos. Las secuencias lacustres representan archivos detallados de cambio global en el pasado que son imprescindibles para conocer tanto la variabilidad climática regional como la dinámica de estos sistemas y así implementar políticas de conservación y gestión de estos espacios naturales y de los recursos hidrológicos y ecológicos que sustentan y estrategias de adaptación al cambio climático.
A paleolimnological perspective of three Spanish karstic lakes (Taravilla, Zoñar and Estanya): sedimentological and hydrological evolution, climate and human impact and implications for management and restoration policies. We synthesize the available, published paleolimnological information based on sediment core analyses from three Spanish karstic lakes: Taravilla in the Iberian Range (Guadalajara province), Estanya in the Pre-Prepirinean Range (Huesca province) and Zoñar in the Guadalquivir Basin (Córdoba province). The time span ranges from the last 21000 years in Estanya, about 4000 years in Zoñar and 2000 years in Taravilla. The multidisciplinary study shows large depositional changes in the lakes mostly related to water level and hydrochemical fluctuations and changes in the watershed. Climate change has been the main forcing to explain the hydrological changes in the lakes. Human impact in the watershed and the lakes has been documented since Iberian-Roman times and it has increased since the Medieval Ages with a much higher sediment delivery to the lakes. Lake sediment sequences contain detailed archives of global changes in the past, needed to understand the natural climate variability and the dynamics of the lacustrine systems. These data will help to implement conservation and restoration policies of aquatic ecosystems and also strategies for adaptation to future climate changes.
Collections