Publication:
Dermatitis herpetiforme como manifestación de enfermedad celiaca: estudio de factores epidemiológicos, genéticos, clínicos, diagnósticos y terapéuticos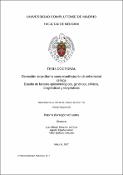 Files
Authors
Advisors (or tutors)
Editors
Publisher
Universidad Complutense de Madrid
Abstract
La Dermatitis herpetiforme (DH) es una enfermedad autoinmune poco frecuente, con una incidencia en Europa del Norte que varía entre 11.5 y 75 personas de cada 100.000. La enfermedad celiaca (EC) es más frecuente, con una incidencia en Europa de aproximadamente 1%. La DH está infra diagnosticada. El motivo puede deberse a varios factores. Por un lado, la apariencia vesiculosa y el prurito pueden hacer que se confunda con enfermedades dermatológicas más frecuentes. Además debido al rascado predominan las excoriaciones y erosiones. Por otro lado al ser una enfermedad que cursa en brotes a veces el paciente cuando acude al especialista no presenta lesiones típicas. Como los síntomas gastrointestinales solo están presentes en cerca del 20% de los pacientes eso hace que además la enfermedad celiaca subyacente pase desapercibida. La mayoría de los casos de DH tienen EC, de manera que se considera la DH una manifestación de EC. El tratamiento de la DH es la dieta sin gluten (DSG) y la dapsona hasta que la DSG controle la enfermedad. Pacientes y métodos Estudio de casos y controles observacional. Los casos son pacientes con Dermatitis herpetiforme (grupo DH) y los controles pacientes celiacos sin dermatitis herpetiforme (grupo EC) y pacientes sanos sin dermatitis herpetiforme ni enfermedad celiaca conocida (grupo SANOS). La Asociación de Celiacos y Sensibles al Gluten de Madrid comunicó el estudio. Los voluntarios fueron todos revisados en consulta por la Dra. Paloma Borregón en el Departamento de Dermatología de la Clínica Universidad de Navarra en Madrid, aportando los resultados de las pruebas requeridas.
Dermatitis herpetiformis (DH) is a rare autoimmune illness, with an incidence in North Europe between 11.5 and 75 of every 100.000 people. Celiac disease (CD) is more frequent, with an incidence in Europe of approximately 1 %. The DH is infra diagnosed. The reason can be due to several factors. On the one hand, the vesicular appearance and the itch can do that it makes a mistake with more frequent dermatologic illnesses. Because of the pruritus the patients scrath them and turn into excoriations and erosions. As gastrointestinal symptoms are only present in close to 20 % of the patients that does that also the underlying EC remains undiagnosed. Most of the cases of DH have EC, so that the DH is considered as EC symptom. The treatment of the DH is gluten free diet (GFD) AND dapsone until GFD controls the illness. Patients and methods We performed an observational Case-control study. The cases are patient with DH (group DH) and the controls coeliac patients without DH (group CD) and healthy patients without dermatitis herpetiforme not even well-known EC (group SANOS). The Association of Coeliac and Sensitive to the Gluten of Madrid communicated the study. The volunteers were all visited in the Department of Dermatology of the Clinical University of Navarre in Madrid, by Dr. Borregón...
Description
Tesis inédita de la Universidad Complutense de Madrid, Facultad de Medicina, leída el 02/02/2017
Collections