Publication:
Tratamiento de audio para la mejora de la calidad de voz en plataformas de streaming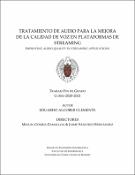 Authors
Advisors (or tutors)
Editors
Abstract
Este proyecto surge como una iniciativa, ante el aumento del uso de plataformas de emisión y el auge del teletrabajo, para proporcionar una herramienta fácil de usar que mejore la calidad de las emisiones. El objeto es el estudio de la inteligibilidad de la voz transmitida en streaming, en estos tiempos, donde las cifras de comunicaciones IP han alcanzado récords históricos (Encierros preventivos por el Covid-19), facilitando el uso mediante una interfaz simple pero configurable, a unos procesadores bastante complejos y en algunos casos desconocidos: los compresores de audio. La compresión de rango dinámico, inventada en la década de los 1930s-1940s, respondía a la necesidad del control automático del volumen de los presentadores de radio y televisión, debido a su variedad expresiva durante las emisiones en directo y para contener la potencia de la señal generada por toda una audiencia aplaudiendo a la vez. Hoy día, esta herramienta se sigue utilizando en formato hardware en todo tipo de estudios de grabación y emisiones, pero no aparece incorporada en los sistemas más habituales de streaming que tienden al uso de la Inteligencia Artificial en sus mejoras de audio, o no permiten la inclusión de procesadores software en la cadena de emisión. Mi objetivo es crear un plugin de audio, que se pueda usar en la mayor cantidad de entornos posible, incorpore una versión digital de las mejoras analógicas habitualmente aplicadas a la señal vocal, que se pueda autoconfigurar mediante presets, y finalmente estudiar el impacto de la compresión y el filtrado digital en la inteligibilidad de la transmisión.
This Project arises as a response to the increase of the use of live broadcasting platforms and remote working to provide an easy-to-use tool which improves the quality of broadcasts. Its aim is the study of voice intelligibility on live streaming, in these times, where IP communication figures have reached historical records (due to Covid-19), facilitating the use through a simpler interface, but configurable to some quite complex and sometimes unknown processors: audio compressors. Dynamic Range Compression, invented during the 30s, responded to the need of automatic control of the volume of the TV & Radio hosts, due to their expressive variety while broadcasting live, as well as to contain the signal strength generated by a whole audience clapping at the same time. Nowadays, this tool is still used as hardware in all sorts of recording studios and streaming, but it is not implemented within the most usual streaming software, which tend to the use of AI on their audio improvements, or do not allow the inclusion of software processors within the broadcast chain. My aim is to create an audio plugin, that can be used on as many environments as possible, incorporating a digital version of the analogical improvements, usually applied on a vocal signal, that can be set up through presets, and lastly, to study the impact of compression and digital filtering on broadcasting intelligibility.
Description
Grado en Ingeniería Informática, Facultad de Informática UCM, Departamento de Sistemas Informáticos y Computación, Curso 202/2021.