Publication:
Sistema de videovigilancia low-cost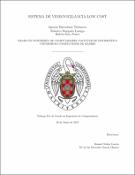 Advisors (or tutors)
Editors
Abstract
En este documento se presentan los distintos aspectos abordados para la puesta en marcha de la empresa, SecBerry, con el objetivo de producir y distribuir un sistema de video vigilancia de bajo coste, que monitoriza lo que está ocurriendo en el lugar dónde esté instalado el sistema, permite al usuario observar lo que éste captura mediante streaming y produce alertas a través de correo electrónico si detecta movimiento. Para el desarrollo del producto, se ha utilizado una Raspberry Pi con sistema operativo Raspbian, una cámara Pi Noir y los programas de monitorización de imágenes Motion y RaspiMJPEG. En esta memoria se presenta el proceso de desarrollo del producto, la descripción de la página de venta del producto y el entorno web empotrado en la propia Raspberry Pi, así como el modelo de negocio de la empresa.
This document presents the main aspects that have been addressed during the implementation of a company called SecBerry. The goal of SecBerry is to produce and distribute a low-cost video surveillance system to monitor what is happening in the area where the system is installed. The system allows the users to watch through a stream the video captured by it. In addition, it generates e-mail alerts whenever it detects motion. The elements used to build the product are a Raspberry Pi with a Raspbian Operating System, a Pi Noir camera, and the monitoring programs Motion and RaspiMJPEG. This report includes the developing process of the system, a schematic business plan and the description of the two developed web interfaces: the selling web page and the embedded web system installed in the Raspberry Pi.
Description
Trabajo de Fin de Grado en Ingeniería de Computadores (Universidad Complutense, Facultad de Informática, curso 2014/2015)