Publication:
Un saco de niños zaleados: precariedad laboral y precariedad vital de la generación de la crisis en Extremadura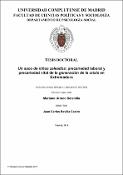 Files
Authors
Advisors (or tutors)
Editors
Publisher
Universidad Complutense de Madrid
Abstract
Esta tesis doctoral supone, en primer lugar, una revisión histórica sobre el papel que ha jugado el trabajo en el proceso de construcción de una pauta social que hoy, supuestamente, estaría en vías de extinción debido a las profundas transformaciones experimentadas durante las últimas décadas en el ámbito laboral. Así, durante la Modernidad, el trabajo ocupó el lugar central como vertebrador del orden social y, correspondientemente, el sujeto trabajador (un tipo concreto de trabajador) se constituyó como figura de referencia a todos los niveles. Se configuraron, entonces, las denominadas "sociedades salariales", actuando el trabajo (en su variante de empleo) como eje en torno al cual se organizó y desarrolló una auténtica "ciudadanía laboral", que tuvo en el auge de los Estados del Bienestar de la época de posguerra su momento álgido (pauta fordista-keynesiana). En la posmodernidad, por el contrario, el trabajo habría sufrido un progresivo proceso de "descentramiento", que va paralelo a las modificaciones introducidas por el desarrollo de una nueva era del capitalismo, global e informacional, que hace de la flexibilidad, bajo todas sus formas, su dogma. Para adaptarse a un novedoso contexto competitivo (auge tecnológico, posibilidades de deslocalización y subcontratación, tendencia a la terciarización, etc.), se implementan toda una serie de medidas orientadas a la "flexibilización" del mercado de trabajo, que socavan las bases de los principios rectores de aquellas sociedades "laborales". Se da, por lo tanto, un intenso proceso de cambio en los modos de producción, uno de cuyos efectos es el surgimiento de nuevas figuras laborales, que presentan, en comparación con el obrero estándar de la pauta fordista, otro tipo de relaciones con respecto al trabajo. La creciente generalización de estos nuevos tipos de trabajador, que normaliza condiciones en otro momento consideradas "atípicas", favorece la proliferación de nuevas formas de construcción identitaria, que tienen en la "precariedad" su rasgo más destacado. Todas estas dinámicas de transformación tendrán un efecto especialmente intenso entre aquellos sujetos que, como los jóvenes, ocupasen una posición de partida relativamente inestable con respecto al mercado de trabajo, por hallarse fuera de él (o por no estar todavía firmemente integrados en el mismo) en el momento en que las tendencias de crisis se habrían agudizado, especialmente, como defenderemos, a partir de 2008...
This PhD dissertation is, on the one hand, an historical review about the role played by labour in the process of establishing a social structure. Nowadays, such influence can become extinct due to the deep transformations experienced during the last decades in the workplace. Thus, during Modern Ages, labour fortified social order and, consequently, workers were reference figures at all levels. Then, the so-called "wage societies" were formed and the prototype of a "labour citizenship" was developed around labour. Such citizenship reached its highest point when the Welfare States of the postwar period ("Keynesian-Fordist" model of regulation) emerged. Later, in postmodernism, on the contrary, labour suffered a progressive process of "decentralization" combined with the development of a new capitalism, which was global, informational and, above all, flexible. In order to be able to adapt to a new competitive context (rise of technology, subcontracting possibilities, etc.) many measures —whose aim was the "flexibilization" of labour— were implemented. As a result, an intense process of change in the means of production took place and one of the most outstanding effects was the rise of new labour figures, which would lead to different types of relationships in relation to labour. These new types of workers and their expansion benefited the proliferation of new identities characterized by the precarious conditions in which they had to labour. All these changes have had an intense effect among those who held a relatively unstable initial position given that they were not totally integrated into it in a time of crisis, specially, from 2008 onwards, as it will be explained in this dissertation...
Description
Tesis de la Universidad Complutense de Madrid, Facultad de Ciencias Políticas y Sociología, Departamento de Psicología Social, leída el 10/07/2017
Collections