Publication:
El personaje de la investigadora en la narrativa policíaca peninsular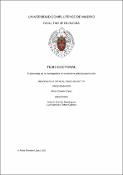 Files
Authors
Advisors (or tutors)
Editors
Publisher
Universidad Complutense de Madrid
Abstract
El objetivo de este estudio, titulado "El personaje de la investigadora en la narrativa policiaca peninsular", es analizar la evolución y la situación actual de las protagonistas femeninas de la novela criminal española, desde 1996 hasta 2019, a partir de diez ejemplos concretos y determinar si las obras seleccionadas responden, o no, a los preceptos de la ficción criminal feminista. Las novelas escogidas han sido estudiadas desde temáticas diferentes, todas ellas relacionadas con el feminismo, para no caer en la repetición, si bien hay elementos comunes que hemos analizado en todas y cada una de ellas. En primer lugar se hará un breve recorrido por las primeras novelas occidentales protagonizadas por mujeres, para así datar con exactitud la entrada de las protagonistas femeninas en la literatura. Posteriormente se realizará una selección de aquellas novelas internacionales más relevantes y destacadas en el canon de la novela negra para, a través de su análisis, reseñar aquellas características comunes a todas ellas...
The object ive of this study, entitled "The character of the researcher in the peninsular crime narrative", is to analyze the evolution and current status of the female protagonists of the Spanish crime novel, from 1996 to 2019, based on ten specific examples and to determine whether or not the selected works comply with the precepts of feminist crime fiction. The selected novels have been studied using different themes, all of them related to feminism, although there are common elements that we have analyzed in each and everyone of them. Firstly, a brief overview of the first Western novels featuring women is given, in order to date exactly the entry of female protagonists into literature. Then, a selection of the most relevant and outstanding international novels in the canon of the crime novel will be made in order to review the common characteristics of all of them...
Description
Tesis inédita de la Universidad Complutense de Madrid, Facultad de Filología, leída el 30/11/2020. Tesis retirada por expreso deseo de la autora
Collections