Publication:
Alveolos post-extracción: cicatrización espontánea vs implante inmediato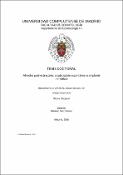 Files
Authors
Advisors (or tutors)
Editors
Publisher
Universidad Complutense de Madrid
Abstract
Los cambios dimensionales que acontecen tras la extracción de uno o mas dientes están detenidamente descritos en la literatura científica. Desde los primeros estudios simplemente descriptivos hasta los estudios mas reciente se ha descrito la secuencia de eventos biológicos que llevan a las modificaciones histológicas y dimensionales de la cresta residual. Los cambios dimensionales que acontecen pueden influenciar clínicamente el plan de tratamiento. Entre las opciones plausibles para tratar la zona edentula existe la posibilidad de colocar un implante inmediatamente tras la extracción. Sin embargo existe una evidencia limitada en la literatura sobre las diferencias de cicatrización entre el implante inmediato y la cicatrización espontanea del alveolo, tras la extracción de un diente. Solamente en un estudio publicado por la escuela Sueca (Araujo et al. 2005) ha comparado los acontecimientos biológicos y las alteraciones de la cresta entre el alveolo dejado cicatrizar espontáneamente y la colocación inmediata del implante en la misma hemi-­‐mandíbula. .En ambos grupos el remodelado de la cresta fue muy marcado, y la colocación del implante no fue capaz de contrarrestar este remodelado. Los principales objetivos del presente trabajo de investigación por lo tanto son i) describir los resultados histológicos e histométricos de la comparación entre implante post extracción y cicatrización espontanea de alveolos adyacentes tras un tiempo de 6 semanas de evaluacion (estudio 1); ii) describir la fases de cicatrización temprana de los alveolos tras la extracción de un diente y analizar los cambios dimensionales lineares de las crestas alveolares en sentido vertical y horizontal (estudio 2) y iii) comparar los resultados histométricos e histológicos e los implantes post extracción y de los alveolos adyacentes en las fases temprana de cicatrización. (estudio 3)...
The alveolar process is a tooth-­‐dependent bone structure that develops in conjunction with the process of tooth eruption. When teeth are lost or extracted, a concomitant process of bone modelling and remodelling results in significant changes in both the width and height of the resulting alveolar crest, being the buccal wall more affected than the lingual/palatal wall. These morphologic changes in the alveolar ridge were investigated in the sixties to accurately design the appropriate prosthetic rehabilitation. The precise histological events, however, have been identified recently in well-­‐designed pre-­‐clinical models. These studies have described a cascade of events occurring immediately after tooth extraction starting with the formation and maturation of a blood clot in the interior of the socket. This blood clot in direct contact with the mineralized socket bone walls is soon replaced by a provisional connective tissue matrix, which is progressively converted after 2 weeks of healing into woven bone, lamellar bone and bone marrow. In this pre-­‐clinical model after 60 days of healing the coronal opening of the socket is filled with a bridge of cortical bone, thus forming a continuous alveolar ridge. In this ridge the height of the mesio-­‐distal dimension is fully preserved, mainly when the adjacent teeth are present as their periodontal ligament will always preserve the mesial and distal bone levels. The bucco-­‐ lingual dimension, however, will suffer significant volume alterations during the first months of healing, mainly affecting the most coronal third of the socket itself. Several authors using pre clinical models studied the early healing events in the alveolar ridge, and the reported dimensional bone changes have varied among the literature. This heterogeneity in the patterns of alveolar bone resorption after tooth extraction has also been reported in clinical human studies..
Description
Tesis inédita de la Universidad Complutense de Madrid de la Facultad de Odontología del Departamento de Estomatología III, leída el 14-01-2016.
Collections