Publication:
Algunas propiedades de los compactos movibles.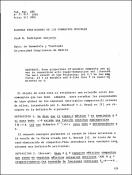 Advisors (or tutors)
Editors
Publisher
Universitat Autònoma de Barcelona
Abstract
Some properties of movable compacta are given in aonnection with quasi-dominación and likeness. The main result is the following : Let X,Y be two comnacta. If Y is movable and X-like then Y is quasi-dominated by X.
Description
Proceedings of the seventh Spanish-Portuguese conference on mathematics. Part II. (Spanish). Held at Sant Feliu de Guíxois, May 26–30, 1980.
Citation
K. BORSUK. Concerning homotopy properties of compacta, Fund. Math. 62. (1968) pp. 223-254. Theory of Shape.Polish Scientific Publishers, Varsovia (1975). Some quantitative properties of shapes, Fund. Math. 93 (1976) pp. 197-212. J. DYJAK y J. SEGAL. Shape Theory. Springer Lecture Notes Vol 688. Berlin, (1978) S. MARDESIC y J. SEGAL. s-mappings onto polyhedra. Trans. Amer. Math. Soc. 109. (1963), pp. 146-164.
Collections