Publication:
El romancero tradicional de Cantabria: el ciclo del tabú del incesto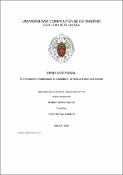 Files
Authors
Advisors (or tutors)
Editors
Publisher
Universidad Complutense de Madrid
Abstract
El objetivo principal de esta tesis doctoral supone una nueva propuesta de análisis del ciclo del incesto aún presente en el Romancero, y de forma más precisa, en las versiones cántabras de los romances Delgadina, Silvana, Tamar, Primos Romeros, Cura Traidor y Blancaflor y Filomena. Para el mejor manejo de los cientos de versiones existentes de estos romances, nos hemos centrado en los textos procedentes de Cantabria. Para tal fin, hemos confeccionado el corpus de Cantabria con los romances que se han venido publicando desde los albores del siglo XX hasta la actualidad, incluyendo mi aportación personal al corpus fruto del trabajo de campo realizado entre 1999 y 2003 en los que recopilé 250 versiones de romances, 190 textos de la tradición oral y entrevistado cerca de 192 informantes. Así, los romances Delgadina y Silvana tratan el incesto paterno filial, el romance Tamar versa sobre el incesto entre hermanos, el texto Primos romeros, el incesto entre primos, el romance vulgar Cura Sacrílego nos presenta el asunto del incesto espiritual, y, finalmente, el romance Blancaflor y Filomena trata la prohibición existente entre cuñados. Los romances nos informan sobre los argumentos de evitación del incesto en los que, en algunos casos, media la violencia. De este modo, se expresa la subversión de los roles de parentesco, la prohibición basada en un precepto divino y el infructuoso intercambio frente al argumento de la belleza de la joven. Incluso, se trata el tema de la venganza a través del infanticidio y del banquete ritual. Estos trágicos sucesos colocan a los lectores al lado de la víctima al tiempo que nos interpela y cuestiona sobre la actualidad de estos romances en un tema considerado tabú. Con todo, sigue resultando llamativo el hecho de que estos romances sigan transmitiéndose principalmente por la figura femenina...
This doctoral thesis mainly aims at a new analysis proposal regarding the incest cycle still present in the Romancero (Ballad poetry), and more precisely, in the Cantabrian versions of ballads such as Delgadina, Silvana, Tamar, Primos Romeros, Cura Traidor and Blancaflor and Filomena. For better handling of hundreds of existing versions of these ballads, we have focused on texts from Cantabria. For that purpose, we have prepared the Corpus of Cantabria with ballads published since the dawn of the 20th century to the present, including my personal contribution to the corpus as a result of the field research conducted between 1999 and 2003 in which 250 versions of romance poetry, 190 texts from oral tradition and evidence from 192 informants have been collected. Thus, ballads Delgadina and Silvana deal with parent-child incest, ballad Tamar focuses on incest between siblings, the text in Primos romeros deals with incest between cousins, vulgar ballad Cura Sacrílego introduces the subject of the spiritual kinship and, finally, ballad Blancaflor and Filomena addresses the existing prohibition between brothers/sisters in law. Ballads inform us about arguments to avoid incest in which, sometimes, violence is involved. This way, the subversion of kinship roles, the prohibition based on a divine precept and the unsuccessful change against the argument supporting the beauty of the young woman are expressed. Even the subject of revenge by means of infanticide and ritual feasts is addressed. These tragic events place the reader next to the victim and at the same time question and challenge the relevance of these ballads regarding a topic considered a taboo subject. The fact that these ballads are still being transmitted, mainly, by the female figure, is still striking...
Description
Tesis inédita de la Universidad Complutense de Madrid, Facultad de Filología, leída el 11-12-2015
Collections