Publication:
Proyección de los intereses de la Unión Europea en el océano Índico: una cuestión geoestratégica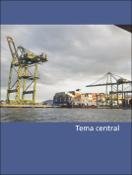 Advisors (or tutors)
Editors
Publisher
Facultad Latinoamericana de Ciencias Sociales (FLACSO)
Abstract
El océano Índico es un espacio en el que confluyen actividades comerciales internacionales con otras ilícitas, lo que convierte al Cuerno de África en una región de conflicto. El principal desafío en esa zona marítima estratégica es la piratería, que se ve favorecida por la falta de gobernanza, la pobreza, la desestructuración social y estatal, la corrupción y la sobreexplotación de recursos. Estos factores son comunes a todos los países del África oriental, e impiden que las distintas iniciativas de paz y progreso resulten viables. Pese a la disminución de la piratería en Somalia, como consecuencia de las intervenciones internacionales, la inestabilidad en la región persiste, lo que supone un riesgo para los intereses de los actores que desarrollan sus actividades en esa parte del mundo. La respuesta implementada hasta la fecha ha sido el despliegue militar para contener la piratería, ahora cuestionada por la disminución del riesgo. El objetivo del artículo es determinar si las acciones de la Unión Europea están guiadas por las amenazas a la seguridad marítima o si, por el contrario, suponen una proyección de sus propios intereses, en un juego de poder en el que la falta de presencia conllevaría la pérdida de influencia regional e internacional.
The Indian Ocean is a space in which international trading converge with illicit activities that convert the Horn of Africa into a region of conflict. The main challenge of this strategic maritime area is piracy, favoured by the lack of good governance, poverty, social and State restructuring, corruption as well as over-exploitation of resources. These factors, common to every country of eastern Africa, prevent various peace and progress initiatives from being viable Despite the decline in piracy in Somalia, as a result of international interventions, instability in the region persists, which poses a risk to the interests of the different actors operating in this part of the world. So far, the response to contain piracy has been the military deployment, now questioned by the reduction of the risk. The objective of this article is to determine whether the actions of the European Union are guided by the threats to maritime safety or if, on the contrary, they represent a projection of their own interests in a power game where the lack of presence would result in the loss of regional and international influence.
Collections