Publication:
Dandys extrafinos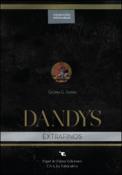 Authors
Advisors (or tutors)
Editors
Publisher
Ediciones Papel de Fumar; CSA La Tabacalera
Abstract
En 2012 en la editorial Papel de Fumar, del CSA La tabacalera de Lavapiés, se publicó esté libro paquete de tabaco. Como toda la Colección Infumables, esté ensayito se pensó con la portada de un paquete de tabaco. Ete caso fué Menceys extra filtros, un tabaco de TAbacalera española, negro y muy fuerte que era muy común en la España de los años cincuenta. Como un paquete de Menceyes tiene 20 cigarrillos esté ensayito en torno al dandysmo y su actualidad también tiene veinte textos, cada uno dura exactamente lo que duraba en el 2012 un cigarro. Ya no fumo no se si sigue funcionando. El libro transita el concepto de crossdressing, fundamental para entender el dandysmo femenino. De la mano de las "dandysymas", conocernos a Hannah Gluckstein, alias Peter, a Marguerite Radclyffe Hall alias John, la crucificada de las dandys, a Brooks, y sus damas, a Barnes y su mala uva, a Elsa y sus locuras, a Florine y su palacio de cristal, y a Rrose, la que era como la vida. En la vanguardia hubo mucho dandy y mucha dandy, Sawa, Paul Arabian, Arthur Cravan y muchas y muchos otros. Llegaron los años cincuenta y nuestra cursilería, tan decimonónica y querida se hizo kitsch y se hizo camp, Jackie Kennedy se torno dandy, los hipster repartían heroína al tiempo que se maqueaban, los mods comenzaban a asomarse y lo rockers querían pegarles. Y ya en los 70 las mujeres de nuevo se hicieron la reinas de una nueva escena donde la actitud dandy se hizo performance, llego la Emin, Koons, Guilbert& George y Tony Manero.
In 2012 in the publishing house, out of the social center CSA LA Tabacalera de lavapies, Papel de Fumar, this book was published taking inspiration from the tobacco package of "Mencey extra filters". Mencey was a dark tobacco, very strong, very common in Spain during the fifties. As a pack of Menceyes has 20 cigarettes, this book has twenty texts, each lasting exactly what a cigar lasted in 2012. The book goes through the concept of crossdressing, essential to understand the feminine dandyism. From the hand of the "dandysymas", we meet Hannah Gluckstein, alias Peter, and Marguerite Radclyffe Hall alias John, the crucified of the dandys, Brooks, and their ladies, Barnes and her close friend Elsa. We also meet Florine Stettheimer and her crystal palace, and Rrose, the one that was like life. In every artistic vanguard we find lots of dandys, male and female. Alejandro Sawa, Paul Arabian, Arthur Cravan and many and many others. The fifties arrived and also the kitsch and camp sensitivities, Jackie Kennedy became dandy, the hipster distributed heroine in fancy dresses, the mods began to appear and the rockers wanted to hit them. And already in the 70s, women again became the queens of a new scene where the dandy attitude became a performance, Tracy Emin, Koons, Guilbert & George and Tony Manero arrived.
Collections