Publication:
Papel regulador de Slingshot-1 en la activación de linfocitos T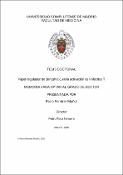 Files
Authors
Advisors (or tutors)
Editors
Publisher
Universidad Complutense de Madrid
Abstract
Durante la activación del linfocito T, se establece una interacción estrecha con la célula presentadora de antígeno (APC). Esta unión se denomina sinapsis inmunológica (SI) y es necesaria para la correcta activación del linfocito. La formación de la SI implica la polarización de orgánulos celulares y múltiples moléculas de señalización hacia la zona de contacto, donde se reorganizan diferencialmente en anillos concéntricos o SMACs (SupraMolecular Activation Clusters). En la zona más periférica de la SI (dSMAC) se acumula la actina, cuya dinámica es esencial no sólo para el ensamblaje de la SI sino también para las funciones efectoras de los linfocitos. La necesidad de una correcta dinámica de actina hace muy interesante el estudio de las proteínas que la regulan. Una de las más importantes es cofilina, que a su vez está activada por la fosfatasa SSH1, cuyo papel durante la activación linfocitaria se desconoce actualmente...
During T-cell activation, a stable interaction with the antigen-presenting cell (APC) is established. This junction is called the immunological synapse (IS) and is necessary for the proper activation of T cells. The formation of the IS involves the polarization of cell organelles and multiple signaling molecules towards the contact area, where they are differentially reorganized in concentric rings or SMACS (SupraMolecular Activation Clusters). In the outermost part of the IS (dSMAC), the actin is accumulated, and its dynamics are essential not only for the assembly of the IS, but also for the effector functions of the lymphocytes. The need for proper actin dynamics makes the study of its regulatory proteins very interesting. One of the most important proteins is cofilin, which is in turn activated by the phosphatase SSH1, whose role during T-cell activation is currently unknown...
Description
Tesis de la Universidad Complutense de Madrid, Facultad de Medicina, leída el 11-01-2018
Collections