Publication:
Prevalencia del síndrome metabólico en población española adulta que asiste a consulta dietética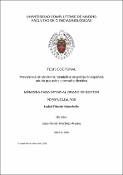 Files
Authors
Advisors (or tutors)
Editors
Publisher
Universidad Complutense de Madrid
Abstract
El Síndrome Metabólico (SMet) se ha convertido en uno de los principales problemas de salud del siglo XXI. Agrupa una serie de alteraciones metabólicas que predisponen a la enfermedad cardiovascular: obesidad, dislipemia, resistencia a la insulina y/o intolerancia a la glucosa e hipertensión. Se trata de una patología que fue descrita inicialmente por Reaven en 1988 y que más adelante ha sido definida por distintos organismos internacionales y sociedades científicas, que han propuesto normativas para su diagnóstico. Sin embargo, dichos criterios diagnósticos, difieren en los umbrales o puntos de corte, establecidos como límite de variabilidad normal para cada uno de los componentes serológicos o antropométricos. La diversidad de criterios puede condicionar los resultados obtenidos a nivel individual y, por ende, afectar a las cifras que indican prevalencia de SMet en estudios epidemiológicos y poblacionales.El presente trabajo parte de la hipótesis de que el riesgo de padecer SMet se encuentra asociado tanto a la obesidad (identificada por exceso de peso o de adiposidad central) como al proceso normal de envejecimiento y que puede estar mediatizado por el sexo del individuo. Consecuentemente, el objetivo general de presente estudio es analizar la prevalencia y evolución ontogénica de los componentes del SMET en una muestra de conveniencia, constituida por pacientes de ambos sexos y en un amplio rango de edad, que asisten a consulta dietética. Los objetivos específicos se centran en analizar el perfil antropométrico y condición nutricional de los participantes asociando el tamaño y composición corporal a la prevalencia y evolución de los componentes fisiometabólicos del SMet (hipertensión, colesterolemia, triglicéridos elevados e hiperglucemia)...
Metabolic Syndrome (SMet) is one of the main health problems of the 21st century. Consisting of several metabolic alterations which predispose to cardiovascular disease: obesity, dyslipidemia, insulin resistance and / or glucose intolerance and hypertension. This pathology was initially described by Reaven in 1988 and later defined by different international organizations and scientific societies, which have proposed protocols for its diagnosis. However, these diagnostic criteria differ in the thresholds or cutoff points established as the limit of normal variability for each of the serological or anthropometric components. The diversity of criteria can condition the results obtained at the individual level and, therefore, affect the figures that indicate the prevalence of SMet in epidemiological and population studies.This work is based on the hypothesis that the risk of developing SMet is associated with both obesity (identified by overweight or central adiposity) and the normal aging process and that may be mediated by the sex of the individual. Consequently, the general objective of this study is to analyze the prevalence and ontogenetic evolution of SMET components in a convenience sample, constituted by patients of both sexes and in a wide range of age, attending dietary consultation...
Description
Tesis de la Universidad Complutense de Madrid, Facultad de Ciencias Biológicas, leída el 12-01-2018
Collections