Publication:
Las campañas de lucha contra la pobreza en la Coordinadora de ONG para el Desarrollo de España (CONGDE), desde Dividendo de Paz, Invertir en paz y Candidata al 0'7, a Pobreza Cero, (1989-2010)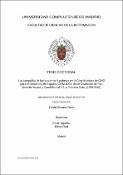 Files
Authors
Advisors (or tutors)
Editors
Publisher
Universidad Complutense de Madrid
Abstract
El objetivo de esta investigación es indagar en los orígenes de las campañas de la Coordinadora de ONG para el Desarrollo-España (CONDGE); localizarlos motivos que promueven estas acciones comunicativas de incidencia social; conocer a los actores y las consecuencias generadas por su toma de decisiones. Desde la Educación para el Desarrollo, (EpD), se ha avanzado mucho en los últimos años y se han generado aportaciones a la educación formal en valores y la sociedad civil ha tenido campañas y acciones de reforzamiento de políticas públicas como fueron las de 0'7 en los años 90 y Pobreza Cero en los 2000. Sorprende que no haya una historia profunda de conjunto sobre la Coordinadora de ONGD, tras más 30 años de existencia y habiéndose convertido en un actor fundamental de la sociedad civil y en interlocutor reconocido por las propias administraciones en sus distintos ámbitos. Hasta el punto de ser la única plataforma "paraguas" de las ONG de Desarrollo, Acción Humanitaria e incluso de Comercio Justo, de las generalistas... Lo más habitual en Europa es encontrarlas desagregadas o temáticas...
Enquiring into the origins and starting points of the campaigns carried out by CONGDE (Spanish Committee for NGOs) is the aim of this research. In addition, we try to explain the reasons that foster these communicative actions that provoke social impact. Moreover, we introduce the agents involved insocial campaigns and the consequences generated by their way of taking decisions. Education for Global Development has been essential because lately ithas let going beyond certain aspects and even it has generated important contributions to formal education, especially, if we take into consideration values and new perspectives. In fact, Civil Society has received positive inputs like campaigns and actions aimed to strengthen public policies, for instance the 0,7% campaign during '90s or Zero Poverty in 00's. But despite of these good examples, it's surprising the fact that there is no a panoramic and global history about CONGDE, an entity that has been active for more than 30 years and that has become a basic agent for Civil Society and appreciated interlocutor with different administrations. We cannot forget that CONGDE has worked as the only supporting platform for the NGO's for Development, Humanitarian Action, and why not, Fair Trade. The usual trend in Europe is to find all those elements separately or thematically organized...
Description
Tesis inédita de la Universidad Complutense de Madrid, Facultad de Ciencias de la Información, leída el 22/11/2019
Collections