Publication:
Near field diffraction of cylindrical convex gratings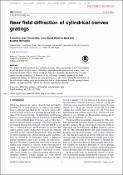 Advisors (or tutors)
Editors
Abstract
We analyze the field produced by a cylindrical convex diffraction grating at the Fresnel regime for several kinds of light sources, including a monochromatic quasipunctual source, finite size, and polychromatic sources. These results can help one understand the functioning of rotary optical encoder technology. A decrease in the self-image contrast is produced for finite nonpunctual sources. In addition, the polychromaticity of the source affects the smoothness of the self-images, making them quasicontinuous from a certain distance from the grating forward. Finally, we experimentally validate the obtained analytical predictions.
Description
© 2015 IOP Publishing Ltd. The authors thank Jose Maria Herrera-Fernandez for his help with graphics. This work has been supported by the project DPI2011-27851 of the Ministry of Science and Innovation of Spain and the project Fagor Automation-UCM Ref. 92/2014.
Citation
[1] Loewen E G and Popov E 1997 Diffraction Gratings and Applications (New York: Marcel Dekker) [2] Palmer C 2000 Diffraction Grating Handbook (New York : Richardson Grating Laboratory) [3] Patorski K 1989 The self-imaging phenomenon and its applications Prog. Opt. 27 1–108 [4] Lohmann A W 1971 An interferometer based on the Talbot effect Opt. Commun. 2 413–5 [5] Oreb B F and Dorsch R G 1994 Profilometry by phase-shifted Talbot images Appl. Opt. 33 7955–62 [6] Talbot W H F 1836 Facts relating to optical science Phil. Mag. 9 401–7 [7] Sugiyama Y, Matsui Y, Toyoda H, Mukozaka N, Ihori A, Abe T, Tabake M and Mizuno S 2008 A 3.2 kHz, 14-Bit optical absolute rotary encoder with a CMOS profile sensor IEEE Sensors J. 8 1430–6 [8] Zhang J H and Cai L 1998 Autofocus laser rotary encoder Appl. Opt. 37 2691–5 [9] Alonso J and Bernabeu E 1993 Use of effective focal lengths to describe laser-beam evolution after diffraction in radial gratings J. Opt. Soc. Am. A 10 1963–70 [10] Koch J A, Cui S and McNeill M A 1999 Effective-focal-length calculations and measurements for a radial diffraction grating J. Opt. Soc. Am. A 16 2690–4 [11] Salgado-Remacha F J, Torcal-Milla F J, Sánchez-Brea L M and Bernabeu E 2011 Use of steel substrates in diffractive optics: near field oh high surface quality steel tape gratings Opt. Lasers Eng. 49 356–60 [12] Lutey A H A 2013 An improved model for nanosecond pulsed laser ablation of metals J. Appl. Phys. 114 083108 [13] Hsieh C T and Lee C K 1999 Cylindrical–type nanometerresolution laser diffractive optical encoder Appl. Opt. 38 4743–50 [14] Tonchev S, Jourlin Y, Veillas C, Reynaud S, Lyndin N, Parriaux O, Laukkanen J and Kuittinen M 2012 Subwavelength cylindrical grating by holistic phase-mask coordinate transform Opt. Express 20 7946–53 [15] Parriaux O, Jourlin Y and Lyndin N 2010 Cylindrical Grating Rotation Sensor Patent Number US20100245841 A1 [16] Torcal-Milla F J, Sánchez-Brea L M and Bernabeu E 2007 Talbot effect with rough reflection gratings Appl. Opt. 46 3668–73 [17] Sánchez-Brea L M, Torcal-Milla F J and Bernabeu E 2007 Talbot effect in metallic gratings under Gaussian illumination Opt. Commun. 278 23–7 [18] García-Rodriguez L, Alonso J and Bernabeu E 2004 Grating pseudo-imaging with polychromatic and finite extension sources Opt. Express 12 2529–41 [19] Sánchez-Brea L M, Saez Landete J, Alonso J and Bernabeu E 2008 Invariant grating pseudoimaging using polychromatic light and a finite extension source Appl. Opt. 47 1470–7 [20] Beutler H G 1945 The theory of the concave grating J. Opt. Soc. Am. 35 311–49 [21] Haber H 1950 The torus grating J. Opt. Soc. Am. 40 153–65 [22] Prieto-Blanco X, Montero-Orille C, González-Núñez H, Mouriz M D, López-Lago E and de la Fuente R 2009 Imaging with classical spherical diffraction gratings: the quadrature configuration J. Opt. Soc. Am. A 26 2400–9 [23] Woodgate B E 1974 Cylindrical and spherical gratings J. Opt. Soc. Am. 64 654–61 [24] Torcal-Milla F J, Sánchez-Brea L M, Salgado-Remacha F J and Bernabeu E 2010 Self-imaging of curved gratings Opt. Commun. 283 3869–73
Collections