Publication:
Análisis de la puesta en marcha y la gestión de Radio Soria en la época analógica (1990-1996)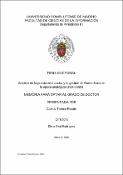 Files
Authors
Advisors (or tutors)
Editors
Publisher
Universidad Complutense de Madrid
Abstract
Nuestra Tesis es el reflejo de una época, de una tecnología, de unos procedimientos. La radio no se inventó en 1990 ni murió en 1996, ni en el mundo, ni en España, ni en Soria. Esta Tesis demuestra que el deseo empresarial por obtener una emisora de radiodifusión no es suficiente para el buen funcionamiento de la misma, y si en esa emisora no hay una propiedad clara que sepa lo que quiere y cómo lo quiere, queda condicionado el desarrollo y evita la autocrítica constructiva necesaria. Entendemos que la forma de estructurar y desarrollar una emisora, RADIO SORIA, no son fundamentales para el mantenimiento de la misma y hay otros factores de poder que sí lo son. Intentamos explicar cómo intereses económicos priman sobre factores y compromisos sociales. Es una aproximación científica al trabajo cotidiano. Hemos hablado sobre el papel de grupos dominantes y queremos, en esa relación micro-macro, conocer el papel de los medios en relación a sus pueblos, a su área de cobertura local.La importancia está en permitir ver la evolución administrativa y tecnológica que se produce en una emisora. Desde su concesión político-legal hasta la emisión de una señal y la recepción de la misma. El objetivo de nuestro estudio está en que podemos describir el desarrollo del trabajo desde la propia sede (administración, programación, gestión), con la importancia de que esta emisora ya ha dejado de emitir con el nombre de RADIO SORIA y actualmente emite como Kiss FM...
Our Thesis is the reflection of a time, of a technology, of procedures. The radio was not invented in 1990 nor died in 1996, nor in the world, nor in Spain, nor in Soria.This Thesis demonstrates that the entrepreneurial desire to obtain a broadcasting station is not sufficient for the proper functioning of it, and if in this station there is not a clear ownership that knows what they want and how they want it, development is conditioned and avoids the necessary constructive self-criticism. We understand that the way to organise and develop a station, RADIO SORIA, is not essential for the maintenance of itself and there are other factors of power that really are. We try to explain how economic interests take precedence over social factors and commitments to society. It is a scientific approach to the everyday work. We have talked about the role of dominant groups and we want, in this micro-macro relationship, to know the role of the media in relation to their people, to their local coverage area.The importance is in allowing to see the administrative and technological evolution that occurs in a station. From its political-legal license to the broadcast and the reception of it. The purpose of our study is that we can describe the development of the work from the headquarters (administration, programming, management), with the importance that this station has already stopped broadcasting with the name RADIO SORIA and currently broadcasts as Kiss FM...
Description
Tesis de la Universidad Complutense de Madrid, Facultad de Ciencias de la Información, Departamento de Periodismo III, leída el 19-01-2018
Collections