Publication:
Prisa en el sistema mediático español: del liderazgo a la pérdida de centralidad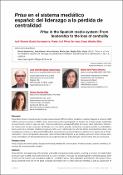 Advisors (or tutors)
Editors
Abstract
Prisa lideró desde el comienzo de los años noventa hasta 2009 el sistema mediático español, llegando a facturar 4.000 millones de euros anuales en 2008. Y, hasta desprenderse de su participación en Canal+, fue el mayor grupo multimedia de nuestro país, tanto en ingresos netos como en audiencia acumulada (15,65%) de prensa, radio, televisión e Internet. Las razones por las que un grupo, destinado a ser uno de los grandes campeones europeos, perdió su centralidad y buena parte de su tamaño, medido en ingresos netos, son el objeto de este artículo. Desde la perspectiva teórica, esta investigación se basa en la Economía Política de la Comunicación, aunque también se detiene en el análisis de la "financiarización" y de la consiguiente deuda que lastró el desarrollo del grupo y que explica, junto con otras erróneas decisiones estratégicas, el desmantelamiento de un conglomerado que había tardado más de treinta años en construirse.
Prisa led from the beginning of the nineties until 2009 the Spanish media system, reaching a turnover of 4,000 million euros per year in 2008. And until it divested its stake in Canal+, Prisa was the largest Spanish multimedia group, both in terms of net income and cumulative audience (15.65%) of press, radio, television and internet. The reasons why a group, destined to be one of the great European champions, lost in a few years its centrality, as well as a good part of its size, measured in net income, are the subject of this article. From the theoretical perspective, this research is based on the Political Economy of Communication, although the article also stops in the analysis of "financialization" and the consequent debt that ultimately hindered the development of the group and that explains, along with other erroneous strategic decisions, the dismantling of a conglomerate that had taken more than thirty years to build.
Collections