Publication:
Valoración de los factores psicológicos, bioquímicos y de sensibilización central en el Síndrome de Boca Ardiente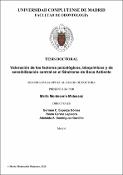 Files
Authors
Advisors (or tutors)
Editors
Publisher
Universidad Complutense de Madrid
Abstract
El Síndrome de Boca Ardiente (SBA) se define como una "sensación de ardor intraoral que recurre diariamente durante más de dos horas al día por un periodo de tres o más meses, en ausencia de lesiones clínicas objetivables". Es una patología cuya prevalencia aumenta con la edad y afecta sobre todo a mujeres post-menopáusicas. Actualmente, seguimos sin conocer la etiología exacta del SBA. Este hecho complica su manejo y hace que, a día de hoy, no exista ningún tratamiento definitivo. Numerosos estudios han demostrado que, además de las alteraciones neuropáticas, los factores psicológicos están implicados en la etiología de esta patología. La ansiedad y la depresión son las enfermedades psicopatológicas más frecuentes en estos pacientes. Asimismo, parece que se asocian con cambios a nivel endocrino y metabólico, que pueden dar lugar a una alteración del eje hipotálamo-hipófisis-adrenal (HPA) pudiéndose manifestar, a su vez, en la composición salival de estos pacientes, incluyendo variaciones en los niveles de cortisol y magnesio. Estas alteraciones psicopatológicas se producen con frecuencia en diversas entidades con sensibilización central (SC), que también pueden presentar disfunción del eje HPA. Se trata de patologías con las que el SBA presenta numerosas características en común: no está producidas por una lesión identificable, su etiología es desconocida, a menudo coexisten en el mismo individuo y están relacionadas con alteraciones psicológicas. Todo esto podría hacer pensar que la SC también sea un proceso implicado en la fisiopatología del SBA. OBJETIVOS: Estudiar las posibles relaciones entre las características clínicas, los factores psicológicos, los parámetros bioquímicos relacionados y el grado de SC en una muestra de pacientes con SBA respecto a un grupo de controles pareados...
Burning Mouth Syndrome (BMS) is defined as "an intraoral burning or dysaesthetic sensation, recurring daily for more than two hours/day over more than three months, without clinically evident causative lesions". Its prevalence increases with age and mainly affects postmenopausal women. Currently, we still do not know the exact etiology of BMS. This fact complicates its management and means that nowadays there is no definitive treatment. Numerous studies have shown that, in addition to neuropathic disorders, psychological factors are involved in the etiology of this pathology. Anxiety and depression are the most frequent psychopathological diseases in these patients. Likewise, it seems that these factors are associated with endocrine and metabolic changes, which can lead to an alteration of the hypothalamic-pituitary-adrenal axis (HPA). These changes can manifest in the salivary composition of these patients, including variations in the cortisol and magnesium levels. These psychopathological disorders frequently occur in several entities with central sensitization (CS), which may also present HPA axis dysfunction. BMS presents numerous characteristics in common with these pathologies: they have no evident cause, their etiology is unknown, they often coexist in the same individual and they are related to psychological disorders. All this may suggest that CS is also a process involved in the pathophysiology of BMS. OBJECTIVES: To study the possible relationship between clinical characteristics, psychological factors, related biochemical parameters and the degree of CS in a sample of patients with BMS compared to a group of paired controls...
Description
Tesis inédita de la Universidad Complutense de Madrid, Facultad de Odontología, leída el 16/12/2020
Collections