Publication:
El ciclo de acción de Hollywood (1980-2015): industria, autoría y cine de acción en la obra de Steven Seagal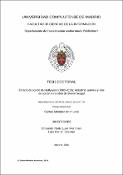 Files
Authors
Advisors (or tutors)
Editors
Publisher
Universidad Complutense de Madrid
Abstract
Esta tesis doctoral analiza y evalúa el impacto, alcance e influencia de los filmes comprendidos en lo que ha dado en llamarse el ciclo de acción de Hollywood entre los años 1980 y 2015 —el ciclo posee etapas netamente diferenciadas: «musculosa», «acrobática» y «inhumana»—. Mediante el estudio de tres vertientes —industria, autoría y el cine de acción—, se ha puesto en contexto este tipo de cinematografía dentro de un escenario de entretenimiento multinacional —donde el cine es una de las múltiples for-mas artísticas de entretenimiento basadas en la narrativa, junto a los videojuegos, la música, la literatura, etc.— y globalizado —el cine de Hollywood, la industria más impor-tante del mundo en términos económicos, lo es no solo por sí misma, sino por su im-pacto en el mercado internacional—. En este sentido, el cine de acción, dadas sus carac-terísticas intrínsecas más elementales, se ha manifestado como un vehículo narrativo y artístico idóneo para la exportación del entretenimiento de Hollywood —así como su ideología— a lo largo de todo el mundo. A través del análisis de una de las obras cinematográficas más consistentes y coherentes del ciclo de acción Hollywood —la obra de Steven Seagal: actor, productor, guionista, director, compositor musical y coreógrafo—, la presente tesis ofrece una pro-funda reflexión sobre el fenómeno de la acción en el cine, su origen, su alcance y sus más habituales manifestaciones. Argumenta, además, la imposibilidad de concebir un cine narrativo sin acción —en mayor o menor medida— en su seno. El estudio de la obra de Steven Seagal —y su clasificación en etapas: clasicista, manierista y metadiscursivo— permite extraer algunas de las más relevantes caracterís-ticas y contradicciones de este tipo de filmes, al tiempo que ofrece un nuevo paradigma de análisis centrado en la influencia autoral del actor en esta cinematografía y/o en los datos de carácter cuantificable extraídos de los mismos —número de escenas de acción, duración de las mismas, porcentaje de acción por filme, etc.
This doctoral thesis analyses and evaluates the impact, scope and influence of the films within Hollywood's so-called action cycle between the 1980s and 2015 —the cycle comprises a number of periods: «muscular», «acrobatic», and «inhuman»—. Through the study of three different dimensions —industry, authorship, and action cin-ema—, this type of cinema has been contextualised within a multinational entertainment landscape —where cinema is only one of the multiple artistic forms based on narrative, such as videogames, music, literature, etc.— and globalised. Hollywood cinema is not only the most important industry in economic terms, it is also relevant for its impact in the international market. In this sense, action cinema, given its specific and intrinsic characteristics, has positioned itself as the ideal narrative and artistic vehicle for the exportation of American entertainment —and ideology— overseas. Through the analysis of one of the most consistent and coherent cinematogra-phers in Hollywood's action cycle, Steven Seagal —actor, producer, writer director, composer, choreographer—, this thesis provides a deep reflection on the action phe-nomenon in cinema, its origin, its scope, and its most salient characteristics. Additio-nally it argues the impossibility of conceiving a narrative cinema without action —to some extent— playing some part. The study of Seagal's work —which can be classified in periods: classicist, man-nerist, and metadiscursive— permits the extraction of some of the most relevant charac-teristics and contradictions of these types of films, whilst it provides a new paradigm for analysis focused on the influence of the actor in this cinema and/or in the data ex-tracted from it —number of action scenes, duration of them, percentage of action per film, etc.
Description
Tesis inédita de la Universidad Complutense de Madrid, Facultad de Ciencias de la Información, Departamento de Comunicación Audiovisual y Publicidad I, leída el 11-01-2016
Collections