Publication:
Pigmentos de origen mineral en el arte oriental y occidental: estudio comparativo a partir del siglo XIX aplicado en la técnica nihonga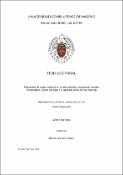 Files
Authors
Advisors (or tutors)
Editors
Publisher
Universidad Complutense de Madrid
Abstract
A lo largo de la historia, el desarrollo de la creación artística ha estado muy relacionado con los pigmentos minerales. Incluso en el presente, estos siguen siendo profusamente aplicados por artistas de las innumerables escuelas pictóricas alrededor del planeta. Con el paso del tiempo, diferentes culturas, entornos geográficos y religiones, han dado un uso distinto a los materiales aplicados en las expresiones artísticas. Un claro ejemplo de ello ha sido la introducción del budismo en Japón, hecho que supuso en este país la utilización de pigmentos minerales procedentes de China. Siglos más tarde, durante la Restauración Meiji se llevó a cabo la mayor influencia externa para el arte japonés, dado que, a raíz de esta se promovió la innovación en la fabricación de pigmentos y se avanzó hacía un sistema único de clasificación (en más de 10 grados) del tamaño de las partículas de los pigmentos minerales. A partir del siglo XIX, en este país, el tipo de pintura que se centró en la utilización de dichos pigmentos recibió el nombre de nihonga, caracterizada por hacer una revisión histórica de las técnicas tradicionales y de la mineralogía a través de un análisis teórico y práctico. En esta nueva definición, además de incluirse el desarrollo histórico de los pigmentos, se tuvieron en cuenta aspectos políticos nacionales e internacionales de la época, la influencia cultural extranjera y, en definitiva, ciertas características de actualidad para comprender a fondo la pigmentación mineral, tales como los procedimientos de producción utilizados e incluso las teorías físicas aplicadas...
Throughout history, the development of artistic creations has been closely related to mineral pigments. Even to this day, these pigments continue to be widely applied by artists from the innumerable pictorial schools around the world. As time has passed, different cultures, geographical areas and religions have made a different use of the materials applied in artistic expressions. The introduction of Buddhism in Japan is a clear example of this, as it entailed the use of mineral pigments from China. Some centuries later, during the Meiji Restoration, the greatest external influence had an impact in Japanese art: due to this Restoration, innovation in the manufacturing of pigments was promoted and progress was made towards a single system of classification of the particle sizes in mineral pigments (in more than 10 categories). From the 19th century onwards, the kind of Japanese painting focused on the use of those pigments was named Nihonga; it was characterized by its historical revision of traditional techniques and mineralogy by means of a theoretical and practical analysis to understand mineral pigmentation in depth, this new definition considered both national and international political aspects of that period, the historical development of pigments, the foreign cultural influence and, ultimately, some relevant characteristics, such as the manufacturing procedures or the applied theories of physics...
Description
Tesis inédita de la Universidad Complutense de Madrid, Facultad de Bellas Artes, leída el 20/01/2023
Collections