Publication:
Apropiación y simulacro en la representación visual a través de redes sociales. El caso de Instagram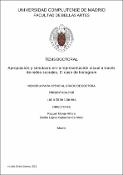 Files
Authors
Advisors (or tutors)
López-Galiacho Carrilero, Emilio
Editors
Publisher
Universidad Complutense de Madrid
Abstract
Esta investigación aborda las prácticas artísticas contemporáneas interesadas en la cultura visual de las redes sociales, y su relación con artistas del último cuarto del siglo XX que trabajaron con los conceptos de apropiación y simulacro. Estudiaremos las imágenes populares de ambas épocas para encontrar símiles y diferencias en la representación visual que nos permitan comprender su relación. A partir de los años cincuenta, con el auge de la televisión surge una figura nueva, la del telespectador, protagonista de un nuevo e imparable tipo de consumo masivo de contenidos realizados exclusivamente a través de pantallas electrónicas. Años más tarde, una serie de artistas nacidos en este contexto, principalmente de la escena neoyorquina, cuestionarían esa nueva cultura de masas mediatizada en la que habían crecido. De ella obtenían materiales visuales a partir de los que trabajaban, tanto simulándolos como directamente apropiándose de ellos y reinterpretándolos. Se trataba de un cuestionamiento sobre los modos de ser y actuar que exportaban estos medios, con los cuales el arte más crítico y reivindicativo no se sentía identificado. Hoy, aquel telespectador pasivo ha dejado de ser tan solo consumidor de contenidos y ha pasado también a producirlos. Esta bidireccionalidad, clave a la hora de definir el ámbito conceptual de la tesis, ha añadido nuevos significados al hecho de consumir imágenes. En las redes sociales, la recepción ha dejado paso al intercambio, y la pasividad al tráfico desinhibido de representaciones e identidades. Esta situación actual, mucho más compleja y abierta, está atrayendo a nuevas generaciones de artistas que, como aquellos apropiacionistas del siglo pasado, pretenden seguir cuestionando la terrible homogeneidad consumista de la cultura visual de masas. Pero a diferencia de aquellos, que trabajaban siempre desde fuera, estos actúan desde dentro, son artistas-usuarios que aceptan y utilizan con naturalidad las propias reglas y códigos de lo cuestionado...
This inquiry addresses contemporary artistic practices concerning the visual culture of social media, and its relation with artists from the last quarter of the 20th century who worked with the concepts of appropriation and simulacrum. I will probe popular images from both periods in order to find similarities and differences in visual representation that may help us gain insights into their relation. Since the 1950s and with the advent of television arises the figure of the TV viewer-the protagonist of a new and unstoppable mode of mass consumption of contents made exclusively for electronic screens. Years later, a number of artists born in this context-most of them based on New York-would call into question that new media-driven culture in which they were brought up. Such culture provided them with visual materials to work on, either by simulating them or by appropriating and reinterpreting them. This process questioned the way of being and acting that these media showcased, with which more critical and anti-establishment art would not identify. Nowadays, the passive TV viewer is no longer someone who consumes content but a producer of content. This two-way phenomenon-which is key to defining the conceptual framework of this research-has contributed with new meanings to the fact of consuming images. In social media, reception has given way to exchange and passivity to the uninhibited traffic of representations and identities. This current situation-a much more open and complex one-has drawn in new generations of artist who, as those practitioners of appropriation from the last century, aim to keep questioning the terrible consumption homogeneity of the mass visual culture. But unlike the latter, who always worked from the outside, these new generations operate from within, that is, they are artists-users who accept and readily make use of the very rules and codes they are calling into question...
Description
Tesis inédita de la Universidad Complutense de Madrid, Facultad de Bellas Artes, leída el 16/03/2021
Collections