Publication:
WEEV: A Multidisciplinary Approach to Educational Game Development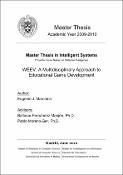 Authors
Advisors (or tutors)
Editors
Abstract
Este trabajo presenta la metodología WEEV: un enfoque global para el desarrollo de videojuegos educativos. WEEV se basa en un enfoque multidisciplinario que incluye teoría narrativa, teoría educativa, teoría de videojuegos, y teoría lenguajes visuales, así como otros aspectos de informática.La metodología presentada en este trabajo se presenta como una manera de incluir a los educadores y expertos en el dominio en el proceso de desarrollo de videojuegos educativos, sin la necesidad de que entiendan lenguajes de scripting o lógica compleja. Para alcanzar estos objetivos se utiliza una representación visual de alto nivel del flujo de la historia que proporciona una abstracción de la lógica de bajo nivel y de las interacciones con elsistema. Una implementación funcional del sistema ha sido desarrollada siguiendo los principios de ingeniería de diseño de software y fue evaluada por usuarios en dos escenarios diferentes. Estas evaluaciones han servido un doble propósito: se mejoró el sistema en base a la retroalimentación de los usuarios y se validó el potencial del enfoque WEEV para el desarrollo de videojuegos educativos. [ABSTRACT] This thesis presents the WEEV methodology: a comprehensive approach for the development of educational video games. WEEV is based on a multidisciplinary approach that includes narrative theory, educational theory, video game theory; and visual language theory, as well as other aspects of computer science. The methodology presented in this work is introduced as a way to include educators and domain-experts in the educational video game development process, without the need for them to understand scripting languages or complex logic. To achieve these goals it uses a high-level visual representation of the story flow that provides an abstraction of low-level logic and system interactions. A working implementation of the system was developed following software engineering design principles and was evaluated by users in two different settings. These evaluations have served a double purpose: the system was improved based on user feedback and the potential of the WEEV approach to educational video game development was validated.
Description
Máster en Sistemas Inteligentes, Facultad de Informática, Departamento de Ingeniería del Software e Inteligencia Artificial, curso 2009-2010