Publication:
La influencia del boca a oreja electrócnica (eWOM) en las decisiones de consumo online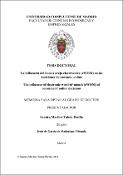 Files
Authors
Advisors (or tutors)
Editors
Publisher
Universidad Complutense de Madrid
Abstract
El boca a oreja electrónico (eWOM) es la fuente de información más importante que los consumidores consultan previo a la toma de decisiones en línea con el fin de reducir los riesgos inherentes a las compras por Internet.La literatura sobre el eWOM se ha centrado en analizar las intenciones de compra, asumiendo éstas, como antecedentes de las decisiones de compra. Sin embargo, con las plataformas de comercio digital, es posible estudiar dichas decisiones en un contexto realista y con mayor control de las variables de estudio.La aparición y desarrollo de las redes sociales y el comercio electrónico han significado un gran desafío y una revolución en la forma como las empresas realiza sus actividades de marketing y cómo estudian las necesidades y deseos de sus consumidores. Se enfrentan a un consumidor más informado, empoderado y que quiere asumir menores riesgos en sus decisiones de consumo, pero a la vez, está más dispuesto a compartir con otros sus experiencias y a imitar comportamientos de sus grupos sociales para sentirse aceptados y partícipes de estos. En este contexto, influyen y son influidos en sus decisiones de compra a través de las recomendaciones de producto o eWOM...
Electronic word-of-mouth (eWOM) is the most important source of information that consumers consult prior to making online decisions in order to reduce the risks inherent in online purchases. The literature on eWOM has focused on analyzing purchase intentions, assuming these, as a background to purchasing decisions. However, with digital trading platforms, it is possible to study these decisions in a realistic context and with greater control of the study variables. The emergence and development of social networks and electronic commerce have been a great challenge and a revolution in the way companies perform their marketing activities and how they study the needs and desires of their consumers. They face a more informed, empowered consumer who wants to take fewer risks in their consumption decisions, but at the same time, is more willing to share their experiences with others and to imitate behaviors of their social groups to feel accepted and share in them. In this context, they influence and are influenced in their purchasing decisions through the product or eWOM recommendations. The main objective of this research is to analyze the eWOM characteristics that are decisive in consumer decisions: valence, type of product and characteristics of the communicator. In a first phase, with a bibliometric analysis of the eWOM literature, published between 2010-2018, the conceptual and theoretical map of this subject was studied. As a result of the previous analysis, the design of three 3 x 2 experiments was projected in an online store, to test the hypothesis of the study regarding the influence of eWOM on online consumption decisions..
Description
Tesis inédita de la Universidad Complutense de Madrid, Facultad de Ciencias Económicas y Empresariales, leída el 18-07-2019
Collections