Publication:
Las canteras de calizas de los interfluvios de los ríos Jarama-Tajuña-Tajo en la Comunidad de Madrid: Valoración de recursos.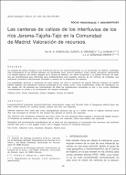 Advisors (or tutors)
Editors
Publisher
Instituto Geológico y Minero de España (Madrid)
Abstract
Un conjunto de ca lizas situadas en los interfluvios de los ríos Jarama-Tajuña-Tajo en la Comunidad de Madrid, explotadas más intensamente en las últimas décadas, son estudiadas como recurso geológico. Estas cal izas pertenecen básicamente a la Unidad Superior del relleno neógeno de la Cuenca de Madrid y en menor proporción a la Unidad Terminal. Se analizan sus características para diferentes usos estableciéndose unas posibles reservas de mil millones de toneladas, que podríamos considerar prácticamente ilimitadas a efectos de la producción de cemento. Las propiedades químicas y mecánicas de estas calizas, así como la presencia de algunas fábricas tobáceas de notable belleza sugieren una explotación racional esca lonada de las ca lizas como: rocas ornamentales, áridos de machaqueo, cales, cargas , etc. Se aconseja una central ización de todas las expfotaciones existentes en dos o tres cortas diseñadas correctamente en cuanto a Ja minimización del impacto ambiental.
Lacustrine-fluvial limestones (Jarama-Tajuña-Tajo interstreams), Upper and Terminal Units of Neogenous Madrid basin has been mined recently for crushed stones, cement and lime raw materials. Inferred reserves from more than t risty stratigraphical sections rise up to 1 billion tonnes of highest chemica l purity that may envisaged as ilimited for the present day demand of cement raw materials. The chemica l and mechanical properties and sorne times th e nice tufaceous fab ric suggest a rational and staged recovery of limestone as dimension ston e, crushed stones, lime, raw materials, fullers and cement raw materials. Geological and environmental considerations let us point out the opportunity of concentrate the numerous and scattered present open pits in a few biggest mines, with a stagged recovery of limestone resources.
Collections