Publication:
Idealismos de la forma y apariencias del lenguaje: Continuos estéticos y comunicativos en el arte de Occidente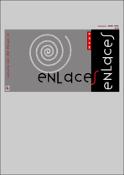 Authors
Advisors (or tutors)
Editors
Abstract
Tomando como hilo conductor las nociones de forma y de lenguaje, se traza aquí una amplia elipsis temporal y conceptual que pone en contacto/oposición, críticamente, el concepto clasicista de belleza y sus diversas consecuencias formales hasta el modernismo avanzado, con la progresiva aparición de las estéticas de la autonomía y la autorreferencialidad, y con las teorías analíticas del lenguaje representadas por el pensamiento de Wittgenstein. La reflexión del arte sobre sí, lo seculariza potenciando en él su vertiente comunicativa, su dimensión lingüística, y ello ha dado pie tanto a las implosiones modernistas, repliegues sobre la especulación formal y perceptiva, como a las explosiones posmodernas de una textualidad que disuelve lo formal desbordando el marco.
Taking as guiding threads notions of form and language, the author draws a wide temporal and conceptual ellipse that -in a critical way- connects / opposes the classical concept of beauty and its various formal derivations/results/consequences until high modernism, with the gradual emergence of the aesthetics of autonomy and the self-referentiality, as well as with analytical language theories represented by the Wittgenstein´s thought. The reflection of art on itself secularizes it and enhances its communicative aspect as well as its linguistic dimension, and this has given rise both to the modernists implosions -folds on formal and perceptual speculation- , along with the postmodern explosions of a textuality which dissolves the formal frame by overflowing it.
Prenant comme fil conducteur les notions de forme et de langage, on trace ici une ample ellipse temporelle et conceptuelle qui relie/oppose, critiquement, la notion classique de la beauté et ses diverses implications formelles jusqu'a le modernisme avancé, avec l'émergence progressive de l'esthétique de l'autonomie et l'auto-référentialité, et les théories d'analyse du langage représentés par la pensée de Wittgenstein. Avec la réflexion sur lui-même, l'art se sécularise et renforce ses aspects communicatifs, sa dimension linguistique, ce qui a donné lieu, tant aux implosions modernistes -de replis sur la spéculation à propos de la forme et de la perception- comme aux explosions postmodernes d'une textualité qui dissout le formel dans le contexte.
Collections