Publication:
Inteligencia artificial, Big Data, tecnovigilancia y derechos fundamentales en el proceso penal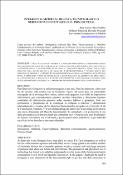 Advisors (or tutors)
Editors
Abstract
Para Quevedo, Góngora era un hombre pegado a una nariz. Para las empresas, sobre todo las de sectores relacionados con la Economía digital, así como para las autoridades encargadas de la investigación criminal, somos seres pegados a un sinfín de dispositivos informáticos que constantemente generan, reciben, transmiten y almacenan ingentes cantidades de información personal sobre nuestros hábitos y paraderos. Este uso permanente y globalizado de la tecnología ha obligado a redefinir y dimensionar adecuadamente el alcance de los derechos fundamentales recogidos en el artículo 18 de la Constitución Española. Y en este trabajo pongo de manifiesto la necesidad de reconocer una nueva dimensión del Derecho fundamental a la intimidad y a la protección de los datos personales en el proceso penal que consistiría en el «Derecho a no estar localizado» de manera sistemática, sin la adecuada y previa ponderación judicial de la gravedad del sacrificio de los derechos e intereses afectados.
As Quevedo wrote, Góngora was a man glued to a nose. For Tech-companies, as well as for law enforcemente agencies and authorities we are beings glued to an endless number of electronic devices that constantly generate, receive, transmit and store huge amounts of personal data about our habits and whereabouts. This permanent and globalized use of technology has forced us to redefine and properly size the scope of the fundamental rights contained in Article 18 of the Spanish Constitution. In this paper, I highlight the need to recognise a new dimension of the fundamental right to privacy and data protection in criminal proceedings, which could be defined as the 'Right not to be located' in a systematic manner, without prior judicial consideration of the seriousness of the sacrifice of the rights and interests affected.
Collections