Publication:
Distantes y desiguales: el declive de la mezcla social en Barcelona y Madrid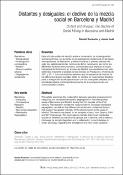 Advisors (or tutors)
Editors
Publisher
Centro de Investigaciones Sociológicas
Abstract
Este artículo explica la relación entre el incremento de la desigualdad socioeconómica y el aumento de la segregación residencial en las áreas metropolitanas de Barcelona y Madrid durante la primera década del siglo XXI, estableciendo las razones de dicho incremento, así como los diferentes factores estructurales y contextuales que explican la mayor intensidad del fenómeno en el caso de Madrid. Los resultados han sido obtenidos mediante el análisis de los Censos de Población y Vivienda de 2001 y 2011. Las conclusiones señalan que los espacios de mezcla de los diferentes grupos sociales están en declive, lo cual plantea desafíos para la integración social que enlazan con los principales debates de la sociología urbana contemporánea acerca de la emergencia de una nueva cuestión urbana.
This article examines the relationship between growing socioeconomic inequality and increased residential segregation in the metropolitan areas of Barcelona and Madrid during the first decade of the 21st century. The research reveals the reasons behind increased residential segregation, as well as the different structural and contextual factors that explain the greater intensity of the phenomenon in the case of Madrid. The results are based on an analysis of data from Spain's 2001 and 2011 Censuses. The conclusions indicate that mixed residential spaces of different socioeconomic groups are in decline, which raises a challenge for social integration and is reflected in current debates in urban sociology regarding the emergence of a new urban question.
Collections