Publication:
Late-type stars members of young stellar kinematic groups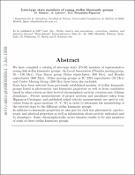 Advisors (or tutors)
Editors
Publisher
Astronomical Society of the Pacific (ASP)
Abstract
We have compiled a catalog of late-type stars (F5-M) members of representative, young disk, stellar kinematic groups: the Local Association (20-150 Myr), Ursa Mayor group (300 Myr), Hyades supercluster (600 Myr), IC 2391 supercluster (35 Myr), and Castor moving group (200 Myr). Stars have been selected from previously established members of stellar kinematic groups based in photometric and kinematic properties as well as from candidates based in other criteria as their level of chromospheric activity, rotation rate, lithium abundance. Precise measurements of proper motions and parallaxes taken from Hipparcos Catalogue, and published radial velocity measurements are used to calculate Galactic space motions (U, V, W) in order to determine the membership of the selected stars to the different stellar kinematic groups.
Description
© 2000 Astronomical Society of the Pacific (ASP). "Three-Islands" Euroconference on Stellar Clusters and Associations - Convection, Rotation, and Dynamos (2nd. 1999. Palermo, Italia)
Citation
Agekyan T.A., Orlov V.V., 1984, Astron. Zh. 61, 60, (SvA 28, 36) Ambruster C.W., Brown A., Fekel F.C., Harper G.H., Fabian D., Wood B., Guinan E.F., 1998, in ASP Conf. Ser. 154, The Tenth Cambridge Workshop on Cool Stars, Stellar Systems, and the Sun, eds. R.A. Donahue & J.A. Bookbinder, CD-1205 Asiain R., Figueras F., Torra J., Chen B., 1999, A&A 341, 427 Barrado y Navacués D., 1998, A&A 339, 831 Bastian U., Röser S., Yagudin L.I., et al. 1993, Astronomisches Rechen- Institut, Heidelberg. Spektrum Akademischer Verlag, Heidelberg Chereul E., Creze M., Bienayme O., 1998, A&A 340, 384 Chereul E., Creze M., Bienayme O., 1999, A&AS 135, 5 Chugainov P.F., 1991, in Angular Momentum Evolution of Young Stars, S. Catalano and J.R. Stauffer (eds.), Kluwer Acad. Publ., p. 175 Dehnen W., 1998, AJ 115, 2384 Duflot M., Figon P., Meyssonnier N., 1995 A&AS 114, 269 Eggen O.J., 1975, PASP 87, 37 Eggen O.J., 1983, MNRAS 204, 391 Eggen O.J., 1984a, AJ 89, 1358 Eggen O.J. 1984b, ApJS, 55, 597 Eggen O.J. 1989, PASP 101, 366 Eggen O.J., 1991, AJ 102, 2028 Eggen O.J., 1992a, AJ 104, 1493 Eggen O.J., 1992b, AJ 104, 1482 Eggen O.J., 1992c, AJ, 103, 1302 Eggen O.J., 1995, AJ 110, 2862 Eggen O.J., 1998a, AJ 115, 2397 Eggen O.J., 1998b, AJ 116, 782 Favata F., Barbera M., Micela G., Sciortino S., 1993, A&A 277, 428 Favata F., Barbera M., Micela G., Sciortino S., 1995, A&A 295, 147 Favata F., Micela G., Sciortino S., D'Antona F., 1998, A&A 335, 218 Gaidos E.J., 1998, PASP 110, 1259 Henry G.W., Fekel F.C., Hall D., 1995, AJ 110, 2926 Henry T.J., Soderblom D.R., Donahue R.A., Baliunas S.L., 1996 AJ 111, 439 Jeffries R.D. & Jewell S.J., 1993, MNRAS 264, 106 Jeffries R.D., 1995, MNRAS 273, 559 Johnson D.R.H., Soderblom D.R., 1987, AJ 93, 864 Mullis C.L. & Bopp W.B., 1994, PASP 106, 822 Röser S., Bastian U., 1991, Astronomisches Rechen-Institut, Heidelberg. Spektrum Akademischer Verlag, Heidelberg Röser S., Bastian U., Kuzmin A., 1994, A&AS 105, 301 Schschter J.F., Remillard R., Saar S.H., Favata F., Sciortino S., Barbera M., 1996, ApJ 463, 747 Skuljan J., Hearnshaw J.B., Cottrell P.L., 1999, MNRAS (in press) Soderblom D.R., 1985, PASP 97, 54 Soderblom D.R., Clements S.D., 1987, AJ 93, 920 Soderblom D.R., 1990 AJ 100, 204 Soderblom D.R., Mayor M., 1993a, AJ 105, 226 Soderblom D.R., Mayor M., 1993b, ApJ 402, L5 Soderblom D.R., King J.R., Hanson R.B., Jones B.F., Fischer D., Stauffer J.R., Pinsonneault M.H., 1998, ApJ 504, 192 Tagliaferri G., Cutispoto G., Pallavicini R., Randich S., Pasquini L., 1994, A&A 285, 272 Tokovinin A.A., 1992 A&A 256, 121 Urban S.E., Corbin T.E., Wycoff G.L., U.S. Naval Observatory, Washington D.C. (1997)
Collections